With today's speed of work and innovation, it's imperative that your business finds an ideal work management software to streamline projects, optimize workflows, automate tasks, and enhance team productivity without causing burnout.
Wrike and Asana are two of the most popular project management tools on the market today. Both are solid options for teams of any size, but of course, there are differentiators that make one a better fit for different companies and teams.
This article shares the key differences between Wrike vs. Asana. We'll introduce both tools, share their best features and advantages, and make a side-by-side comparison to help you choose the best project management solution for your business.
Don't wait to transform your team's productivity and collaboration – find the perfect project management solution for your business now and start experiencing the benefits of Wrike with a 14-day risk-free trial today!
What is Wrike?
Wrike was launched in 2006 by founder and software developer Andrew Filev. His goal was to create a flexible project management platform that is smart, secure, and versatile enough to enable modern teams to configure it to suit their processes and ways of working.
Wrike is a fully-featured project management software with functionalities ranging from resource allocation to budgeting and collaborative project management. It is ideal for teams and organizations that are serious about optimizing and streamlining operations and processes and improving team productivity and engagement. The software makes it easy to customize your workspace to reflect your branding and tackle your needs. Rather than changing your processes to fit the software, you customize Wrike to fit your business.
What is Asana?
Asana was launched in 2011 by co-founders Dustin Moskovitz and Justin Rosenstein. Their goal was to create a sleek project management tool to enable teams around the world to work together effortlessly.
Asana is a collaborative project management tool. It provides essential features focused on streamlining organization-wide collaboration and managing team workloads. Asana helps track project progress and provides visibility into ongoing projects. The software is useful for organizations in the process of streamlining project execution and encouraging better team collaboration. It does this well but doesn't provide a wide range of functionalities beyond simple project management and alignment.
What are the most popular features of Wrike?
Wrike is one of the most feature-rich project management platforms available. If project managers have a need, Wrike has the solution.
Some of the most popular and valuable Wrike features are:
1. Comprehensive project management
Wrike's project management software packs a punch when it comes to improving how modern teams work. Whereas project management tools like Asana provide few functions within project management, Wrike integrates all core project management features into its platform to ensure teams can manage work using fewer tools and apps.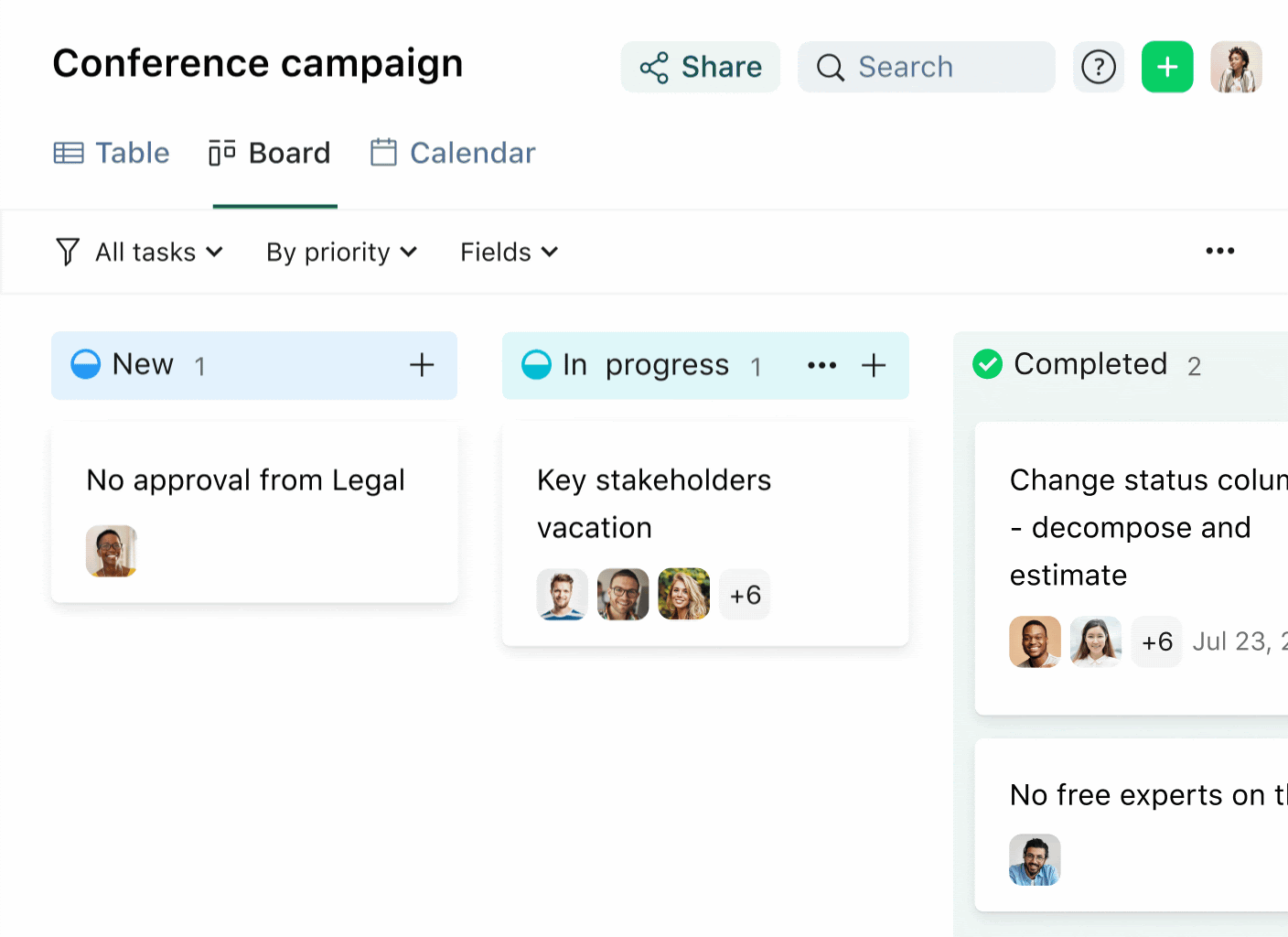 2. Resource management
Available with the Business, Enterprise, and Wrike for Marketers plans, Wrike Resource gives managers the visibility and flexibility they need to manage operating expenditures, balance team workloads, and optimize organization-wide performance. You can assess and anticipate projects' needs to improve project planning and facilitate cross-team collaboration. It helps ensure the highest-priority projects have the resources they need to avoid delays, burnout, or total failure.
3. Budgeting
Available with the Enterprise and Wrike for Professional Services plans, Wrike's financial project management software enables synchronized project scoping and budgeting for managers. You can set project cost baselines and monitor the progress and expenses as teams execute. This feature helps bring more clarity and accuracy to project planning and budgeting for managers and financial departments.
4. Detailed reports
Wrike provides in-depth automated reporting. This is incredibly valuable as it significantly reduces the time teams spend generating and distributing reports, providing a rich trail of past work to show progress over time. When you start with Wrike, the Wrike bot walks you through how to build reports that highlight the most critical metrics for your teams.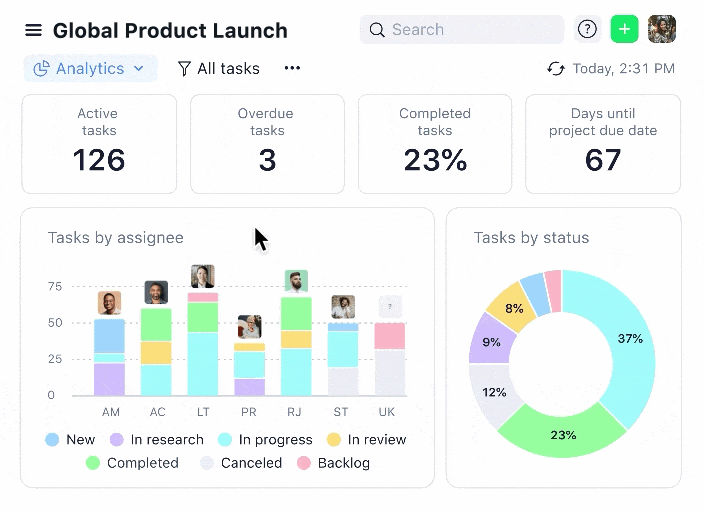 5. Customization
Wrike is highly customizable. You can personalize your workspace according to your brand's assets (available for Enterprise users), customize your workflows and reports, and configure the software in many ways for better productivity. There are other standard features like changing your views, setting notifications frequency, and integrating with other work-critical apps to expand functionalities even more.
6. Proofing
Available with the Business, Enterprise, and Wrike for Marketers plans, Wrike's proofing software allows managers and team members to add comments directly to documents, images, videos, and Microsoft Office files attached to tasks, projects, and folders. This enables teams to share, collaborate, and approve creative work without delay or confusion. Feedback is centralized and openly documented, creating a store of knowledge for future projects.
7. Multiple views
When it comes to how you manage your tasks and projects, Wrike makes it easy to switch between task management views. The software offers list views, table (or spreadsheet) views, calendar views, Kanban boards, and Gantt chart timelines. Every user can organize their workspace and projects according to their preferences and needs to boost efficiency.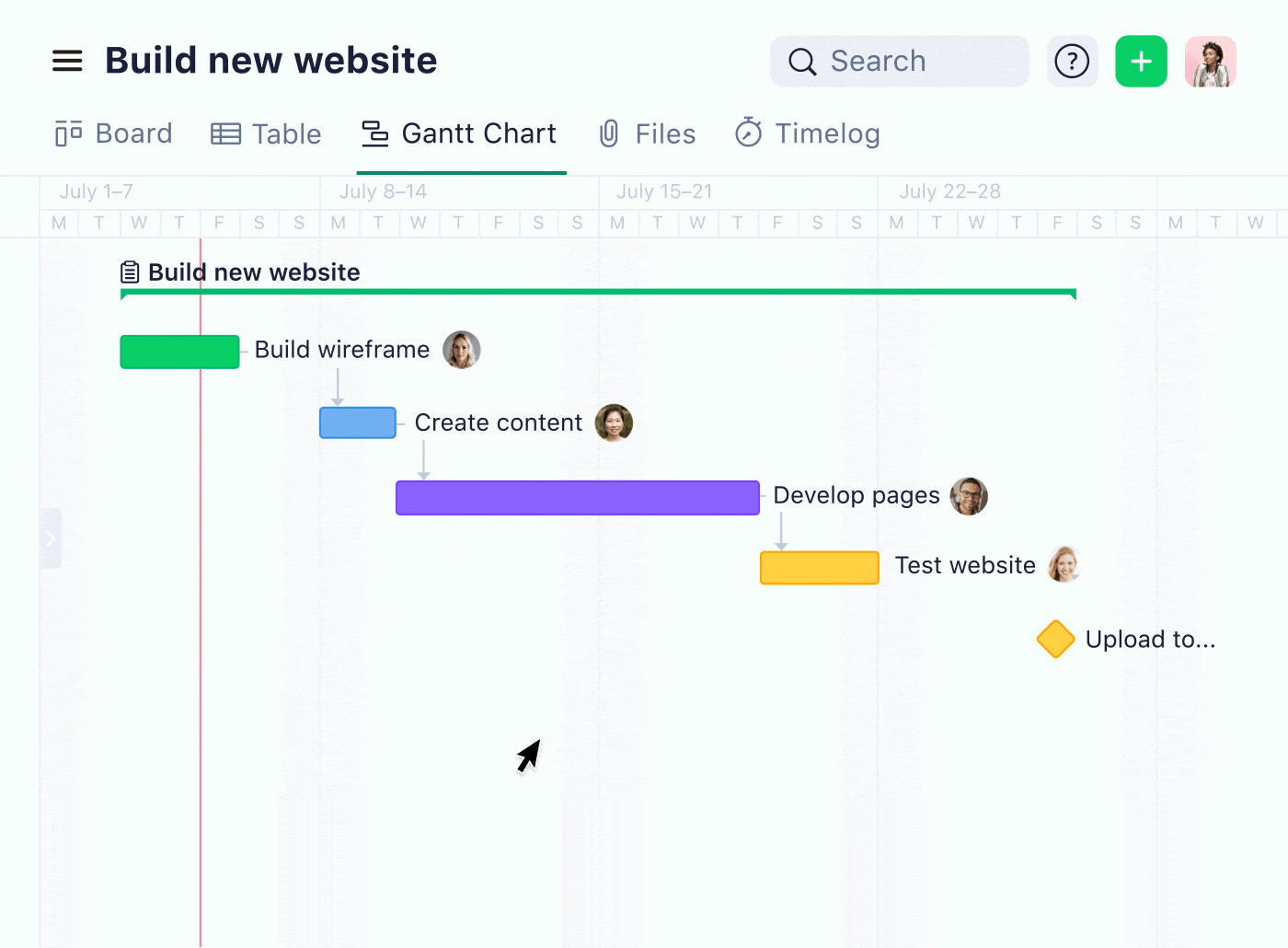 8. Templates
Wrike provides a robust library of project management templates for almost every task, from action plans to daily task trackers and remote work templates. Wrike also provides templates for various industries, e.g., marketing and software engineering, and different project management methodologies like Agile and others.
Take control of your projects and elevate your team's efficiency – Start your free 14-day trial with Wrike now!
What are the most popular features of Asana?
Asana is a collaboration project management tool. When it comes to harmonizing cross-functional teams and tracking projects within an organization, Asana provides an easy-to-use solution. The most popular Asana features are:
1. Simple project management
Asana's project management software provides collaboration, team, and project management features. Shared calendars, in-app communications, easy task scheduling and delegation, and daily notifications are all geared toward enhancing collaboration and making project management across an organization more streamlined.
2. Unlimited storage
Asana provides unlimited storage (100MB per file) to all users, regardless of the pricing plan. This is great for teams and organizations whose daily work involves sharing many documents and media assets. They never have to worry about having to upgrade to a new plan because of the need for more storage space.
3. Proofing
Available with the Business and Enterprise plans, proofing in Asana enables managers and collaborators to leave feedback easily on shared files and documents. This helps teams to maintain a clear trail of their work, improve future projects, and enhance creative collaboration. It's also an advantage for cutting down the time it takes to complete projects, as team members can tag managers or clients and gather feedback in one place.
4. Multiple views
Asana has multiple task management views, like Wrike. This is especially useful when planning projects, as Asana prompts you right from the start to choose your ideal view for every project. You can use the list view to outline and schedule your tasks and the shared calendar view to enhance collaboration with team members. Asana also provides Kanban boards and Gantt charts but lacks the spreadsheet (or table) view.
5. Templates
Asana provides a library of project management templates for Agile teams across industries.
Advantages of using Wrike
The advantages of Wrike include:
1. Consolidated project management features
Wrike provides a broad range of features modern teams and businesses need. This software leads the competition when it comes to allowing users to customize their workspaces, track and budget time and resources, collaborate internally and externally, and protect organizational data with the highest level of security.
2. Enterprise-grade security for all users
Wrike provides enterprise-level security for all teams and users, free and paid. The software works with a five-pronged security plan:
Physical security
Network and system security
Application security
People-focused security
Privacy
3. 24/7 customer support
Wrike goes all out with customer support. Rather than only one or two support options like most other vendors offer, Wrike provides:
FAQs and resources: There's the Wrike FAQ page, a regularly updated library of resources, and a vibrant blog with current project management tips.
Live chat and email: Paid plan users can email and use the live chat within the Wrike dashboard and receive a quick response.
Phone: Paid plan users can contact Wrike directly by phone 24/5 or join a premium support plan for 24/7 access.
Help center: The Wrike help center is constantly updated as new updates or features are rolled out.
Community forum: The community forum provides even more interactive support to users, with a schedule for regular training webinars on everything Wrike and project management.
4. Highly customizable
Wrike is made to be tailored to your needs, not the other way around. Besides the small but impactful tweaks like changing your views and establishing metrics for custom reports, Wrike allows Enterprise users to white-label their workspace for a more personalized and branded look and experience.
Unlock your team's full potential: Streamline project management and enhance productivity with Wrike. Try it free for 14 days!
Advantages of using Asana
The advantages of Asana include:
1. Workload monitoring features
Asana offers a workload management feature for managers to access complete visibility into team members' tasks and availability. This helps ensure everyone is pitching in to the best of their ability and no one is swamped with too much work. Managers can see who is working on what and when. They can also track and set limits on each team member's workload.
2. Focus on collaboration
Asana's entire product focuses on enhancing collaboration between teams as they execute their projects. The software interface is easy to navigate for those already used to project management software. While this focus is good, teams using Asana must integrate with other tools to increase its functionality. This can quickly lead to a bloated and inconsistent tech stack for your teams.
3. No user-cap pricing
Asana's pricing plans are close to Wrike's. But whereas Wrike's free plan allows only five users, Asana allows unlimited assignees.
Asana vs. Wrike: A side-by-side comparison
Below are the most significant differences in functionality between Wrike and Asana.
Asana focuses clearly on team collaboration and project management, and has the essential features to make these easier – task management, templates, in-app communication, file-sharing, multiple views, proofing, and integration with other work applications.
Wrike provides all Asana does and more – resource management, budgeting, detailed reporting, and customization. This takes collaborative work management to a new level, impacting organizational strategy, employee work engagement, and predictive abilities with the data and insights gathered over time.
Why your team should choose Wrike over Asana
Asana is just one Wrike alternative. There are many other project management software solutions on the market, but none provide the features, security, and support Wrike does.
When deciding on the ideal project management tool for your business, whether Wrike vs. Asana or other project management tools, it is crucial to keep your eyes on the big picture. Look for a solution that not only plugs in gaps in your current business processes but also helps your teams improve productivity, engage more with work, and deliver up to standard consistently.
As the business landscape continues to evolve with technology, we can only look forward and prepare to tackle challenges and project risks head-on. We can get better at forecasting the future in our markets using insights from past reports and projects.
Wrike gives you the infrastructure and confidence to rally your teams around your biggest goals, clients, and projects. We harmonize all you need relating to project management on one platform to free up mental space and valuable time for your teams to work better.
Are you ready to improve your project management, collaboration, and operational efficiency? Get started today with a free 14-day trial of Wrike.