You've been tasked with building an email nurture campaign with a quick turnaround. You draft the copy, but once you start putting together the visual layout, you realize the photos and logos are outdated.
Panic sets in as you begin to scramble and fire off emails to your design team, asking them to pull together fresh assets last minute. With your request far down in their queue, you have to decide if you should delay the launch or roll the campaign out with old brand assets.
Top-performing marketing teams know brand consistency is critical to growing awareness around your business. However, maintaining a consistent identity through digital assets presents many challenges. Without a central repository to archive and store core visual materials, images grow stale and your creative team can get swamped by requests for assets that have already been produced.
While this may seem like a simple inefficiency, it can mean a significant loss in productivity across your team. In fact, workers spend an average of 2.5 hours per day looking for up-to-date files—costing companies upwards of $2.5 million in lost productivity a year.
Having a central location where all visual assets are approved and up-to-date cuts down on wasted time and allows the design team to focus on high-priority projects rather than retrieving an approved image every time it's needed.
That's where digital asset management (DAM) comes in.
What is a digital asset?
Before we dive into DAM, you need to understand what a digital asset is.
A digital asset is any virtual file that provides value to the organization. The most common formats are images and videos. However, digital assets have expanded as new formats emerge. Today, they also include documents, spreadsheets, presentations, etc.
According to MediaValet, a digital asset has three key components:
It has to be a digital file.
It must provide value to the company.
It must be searchable and discoverable (usually with metadata).
Here are several examples of digital assets:
Photos
Videos
Audio files
Graphics
Logos
PDF files
Illustrations
Animations
Screenshots
What is digital asset management (DAM)?
Digital asset management (DAM) is the process of organizing, storing, and distributing digital assets across an organization. DAM usually includes a central hub or digital asset management system.
With new file formats emerging every day, it's becoming increasingly critical for organizations to start managing digital assets. Many organizations have started hiring a digital asset manager to organize and distribute multimedia content across departments. As adoption of DAM solutions grows, so has the need to manage rights and permissions to digital content.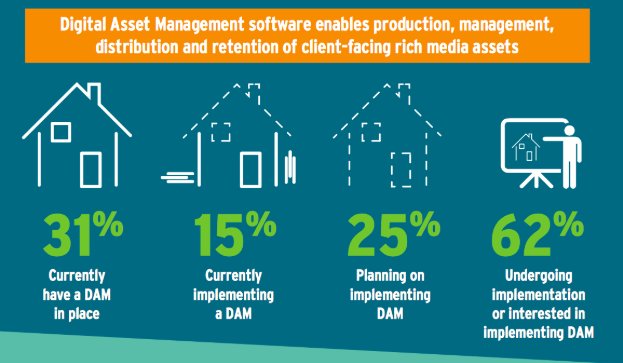 Source: https://opensenselabs.com/blog/articles/integrating-digital-asset-management-drupal
How to use DAM
There are several ways to use DAM to your advantage. As your company begins to expand, so do your digital assets. Things to consider when setting up DAM: how often you use those assets, how frequently you update them, and who needs to access them.
Here are some common use cases for DAM:
Production: Use a DAM to request and fulfill new media needs. Let's say there's an upcoming product release and you need screenshots and product images for the launch. You can request these assets using DAM to ensure they're built and approved by the right people.
Repository: Once these assets are created, use DAM as a central place to house all digital files used across your organization. That way, anyone who needs to use these files will not have to search for or request final versions.
Organization: With DAM, you can write metadata to tag assets accordingly so they're easy to find. Using the product launch example, you could tag files with the name of the release, so other teams can easily search for them.
Distribution: DAM allows you to easily make assets available across teams and create permissions for proprietary files. If a client is reviewing a customer case study video but you didn't want to give them to give them access to the whole DAM library, you could grant them permission to just view and edit that specific file.
Archiving: Use DAM to build a library for bulk storage of assets that don't require constant updating. Once the product launch is complete, you can archive these files so they're still accessible but not cluttering up your storage.
What are the benefits of DAM?
Here are some core benefits of DAM:
Maximizes ROI: In marketing, graphic designs and imagery are constantly used to elevate content by adding visual appeal. By making important designs accessible to the content owner, you're bridging the gap between creative and marketing teams. DAM helps boost productivity and efficiency by eliminating the need to request assets every time they're used. By housing all illustrations and images in one location, the design team devotes their time to creating assets, not searching for them. This reduces design requests and prevents any rework on assets that have already been completed.
Maintains brand integrity & consistency: Company logos, color palettes, photos, and videos are all frequently shared across marketing materials. Too often, old logos and outdated photos are used simply because there was no way to distribute the refreshed versions. Having a central repository for all on-brand assets ensures teams, partners, affiliates, agencies, and clients always have access to the latest approved versions of files.
Provides secure asset allocation: With images and files floating around in emails and documents, it's impossible to know who has access to what. DAM helps centralize and manage control over digital assets by setting up permissions and different access levels to files. This allows Design to have some control over who has access to which files and to provide guidelines on where and how to use them.
Digital asset management systems
If DAM sounds appealing to you, there are several DAM systems out there. When evaluating digital asset management software, it's important to understand the amount of storage, who should access the materials, and how frequently they need to be updated. Here are a few options to get you started: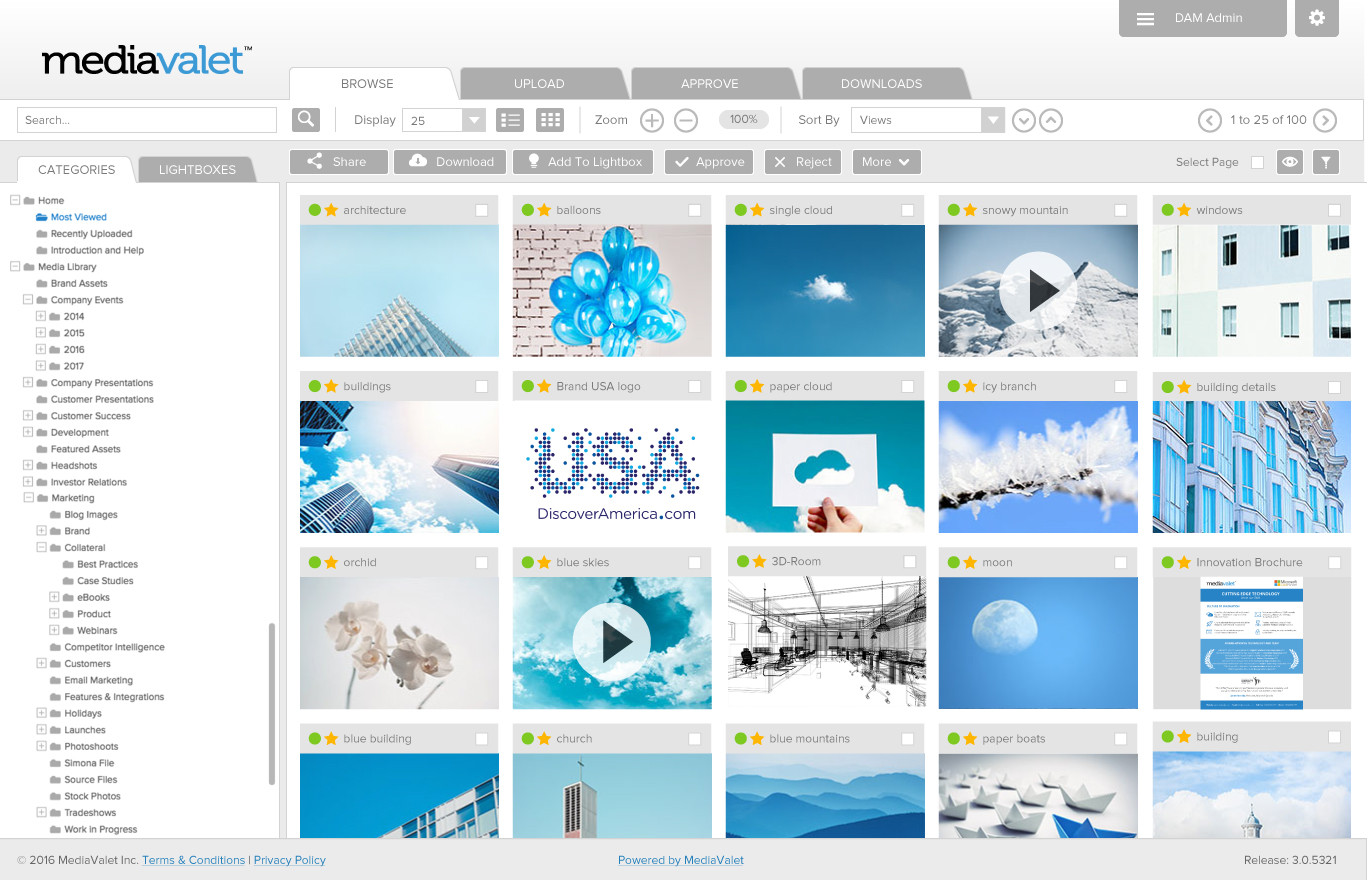 Source: GetApp
This cloud-based DAM software prioritizes security and accessibility for teams dispersed across the world. It leverages Microsoft Azure's highly compliant Platform as a Service (PaaS) technology to make media files available from virtually anywhere.
Features include:
Digital asset management
Enterprise media library
Global scalability
PPT, Word, Excel in-app editing
Adobe integration
Content management
3D, 2D, and CAD file management
Collaboration
Workflow
Video management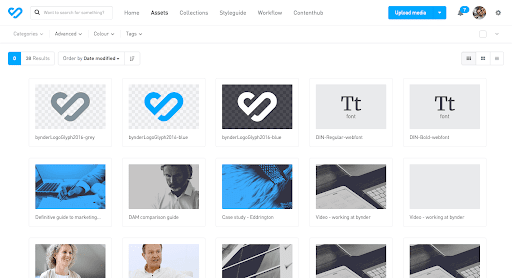 Bynder's DAM tool increases productivity and maintains brand consistency by providing unrestricted access to a media database. Using two-factor authentication, permissions and editing access can be monitored and changed at any time. Files are kept secure and up-to-date at all times.
Features include:
Digital asset management
Creative approvals
Brand templates
Brand identity guidelines
Bynder analytics
Plugins and integrations
Further reading on digital asset management
Here are some helpful articles if you're interested in learning more about digital asset management or how to implement DAM tools across your organization: