Streamline Your Online Invoicing With Wrike
Use Wrike to track your financial data and sync with billing platforms for seamless invoice management.
Take the stress out of sending invoices
Simplify online invoicing with Wrike. With our intuitive tracking and integration features, you can streamline the entire billing process.
Gain full visibility
View team workloads at a glance with Wrike's work management platform. Assess time and effort to determine the appropriate fees to be charged.
Generate invoices easily
Track financial fields, create timesheet reports, and sync your data with accounting platforms to create accurate invoices instantly.
Get paid on time
Invoicing for freelancers can be a nightmare — use Wrike's software to notify clients about upcoming payments and eliminate delays.
Your single source of truth for financial projects
Is your invoicing software struggling to deliver end-to-end services? Integrate with Wrike to track every aspect of project billing, from client costs to employee timesheets.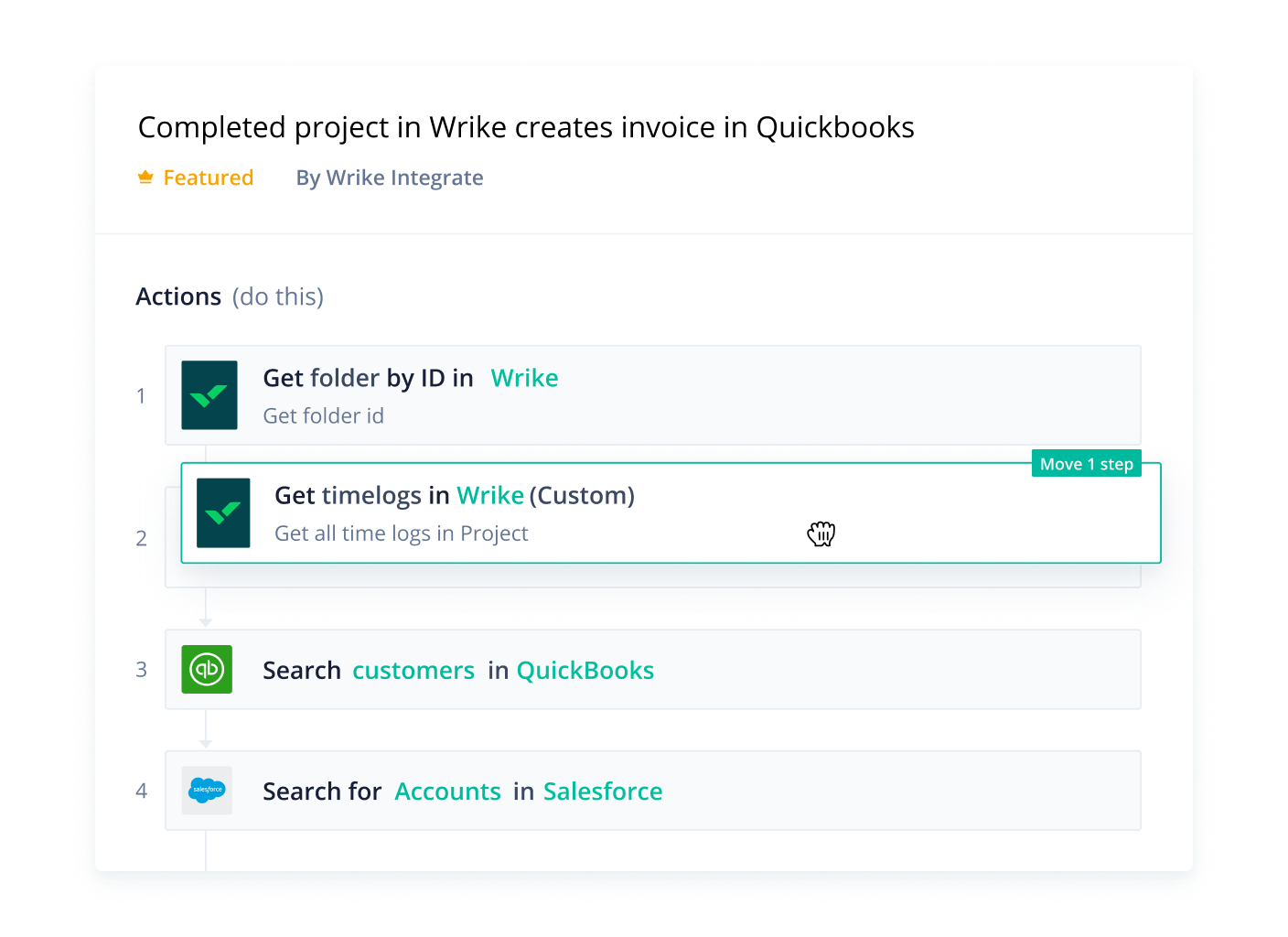 Save time with these templates
Wrike's project management software includes a range of templates that you can tailor to your needs. Use them to kick-start your projects and accelerate client delivery.
Invoice Tracking
Store your invoices in one accessible location. Categorize bills by payment type, spot outstanding costs, and track spending patterns for improved budgeting.
Contract Management
Simplify your contract tracking with Wrike. Create a single repository for all client contracts so you can easily monitor payments and upcoming expiration dates.
PS Management
Supercharge your professional services workflow with Wrike's automated tools. Record billable hours and generate accurate data for client invoices.
20,000+ companies across the globe rely on Wrike
"The company is completely set up on Wrike … We have all the financial information on Wrike, too. If you ask me for an invoice from five years ago, I can find it in three clicks."
"We brought in a freelancer and we ended up hiring someone in an extremely remote forest outside Seattle. We did it all through Wrike."
"Most of what we do is fixed rate. [Wrike has] given us really good tracking and historical information on what we've done in the past and how to price properly."
Resources you can bank on
Complement your online invoicing tools with these educational resources. Find out how Wrike can help you uplevel your financial management.
Your Guide to Professional Services
Master the basics of professional services, including how to retain clients, manage team capacity, and bill for different projects.
Why Finance and Legal Teams Use Wrike
Juggling invoices, budgets, and audits can be tough. Luckily, Wrike can help — here are 16 financial use cases our software can solve.
The Ultimate Guide to Project Tracking
Why is project tracking so important? What tools should you use to monitor freelance projects? Learn everything you need to know in this guide.
Take the pain out of online invoicing
Experience seamless finance management — try Wrike's powerful software free for two weeks.