When we collaborate as a team, the sum is always greater than the individual parts taken alone. And it is this sort of collaboration that brings about category disrupting ideas and the type of fierce work hustle that leaves competitors in the dust. But in order to get to the productive collaboration that sets apart great companies from mediocre ones, you have to use the right tools. That's where this list comes in.
We talk a lot about collaboration on this blog: about strategies, tips, and even mindsets necessary to make teamwork a part of the daily fabric of our work lives. But up till now we haven't really put together a list of the best tools available to make teamwork a reality.
Here then is our ultimate list of the top team collaboration tools for any business. For each category, we list multiple options in no specific order of importance. Our suggestion is you spend the time to vet each option properly or explore similar tools in the same category until you find the one that works for you.
TABLE OF CONTENTS: Click to jump to a specific section
A. Real-time Chat Tools
Slack
Where would every hot Silicon Valley startup be without this feature-rich messaging app? (Probably back in their mom's garage.) Slack is a real-time chat app which operates in channels. It also has voice and video calling, though those tools aren't as powerful as the text chat. What's awesome about Slack is it allows everything from installing emoji to multiple integrations (Yay, GIPHY!). Slack is quickly becoming the AIM of the 21st Century. Everyone knows how to use it, and spends a whole lotta time on it, in order to discuss work.

Microsoft Teams
What do you get when you build a collaboration hub atop Office 365? You get Teams — a chat tool that combines conversations and teamwork tools with Microsoft Word, Excel, PowerPoint, SharePoint, OneNote, and much more. Unlike Skype, Teams was built from the ground up with teamwork in mind, and gives a you lot more bang for the buck.

HipChat
HipChat is the conservative-looking boyfriend you bring home to Thanksgiving dinner who instantly charms mom and dad (your executives) with how secure and stable his future seems to be. He also charms the techie younger brother (IT) with his ability to play nicely with electronics. Overall, he gets the job done despite a lack of pizzazz.
B. Voice & Video Conferencing Tools
Zoom
Zoom goes above and beyond with its HD video conferencing, screen sharing from desktop or mobile, recording features, and the ability to choose full screen or gallery views for video streams (or choose different views for multiple monitors). It has some cool features such as the collaborative whiteboard and the ability to send group texts, images, and audio files during meetings. And if you want a better conference system, it has a solution for upgrading your conference room hardware called Zoom Rooms.

GoToMeeting
The other stalwart in video conference tools, GTM is a popular choice due to its HD-quality video, screen sharing, personalized meeting URLs, and the ability to connect to meetings via desktop or mobile. Teams can collaborate via a whiteboard feature that allows you to annotate and highlight the presenter's screen. Added bonus: international toll-free numbers and options to translate control settings — perfect for global teams.


Hangouts
Google products just work. And if your company uses Gmail or Google Apps, then Hangouts is more useful than instant messaging for video conferencing and screensharing. Just make sure you don't need more than 25 video call participants at a time.


Skype for Business
And then of course, there's the old faithful, Skype, which has been around forever and is a solid option for instant messaging, voice, and video calls. Skype for Business has all the bells and whistles of the other tools here except for toll-free numbers, which GoToMeeting and Amazon Chime have.


Amazon Chime
Amazon entering a new space? You betcha. Chime is available across all operating systems. It's got video recording, screen sharing, remote desktop controls, and a suitable chat functionality. But because it's new, it still has some ways to go to compete with the big boys in this category.

Join.Me
It's difficult to get everyone on the same page when they're miles apart. Join.Me gives you a screensharing and videoconferencing tool that makes it easy to review deliverables, hold training sessions, or simply demo your latest product features. And yes, whiteboarding too.
C. Document Collaboration Tools
Evernote Business
Evernote is the tried-and-true titan in note taking and note sharing. The business plan allows you to take and manage notes and then share them with your team. Its basic and most powerful features are the Notebook Stacks and the tagging system that let you find anything in seconds. It also features a Web Clipper browser extension for capturing ideas while surfing the net, and mobile apps for taking down notes (even voice notes) wherever you are.


OneNote
The other big player in the note creation arena is Microsoft's own OneNote, whose shared notebooks feature makes it super easy to disseminate entire collections of data with your team. Yes, it's a part of Office 365, but we figure it deserves its own spot on this list for its utility outside of office document tools. Best of all, it's a free product (complete with mobile apps) that can be used extensively for both personal and business use.

G Suite
Of course, no collaboration tool roundup would be complete without Google's ubiquitous suite of cloud collaboration tools, including Docs, Sheets, Slides, Forms, and Sites plus the ever-present Gmail, Hangouts, Calendar, and Google Plus. Many companies house all their documents on G Drive because everyone knows how to use it, and (most) everyone has a Google account. Or three.

Dropbox Paper
A collaborative document creation tool that allows all team members to weigh in and work on the same doc or provide feedback. At the same time, it has checklists and @mentions to help you track action items and assign them to specific people. All integrating neatly with Dropbox's file sharing capabilities.

Quip
Quip meanwhile calls its documents "living documents" because it acknowledges that your content (text, images, spreadsheets, and data) will change and evolve over time as you collaborate. Like other tools, it has a solid chat/commenting system that allows your team to communicate right on the documents themselves.

Office 365
Where would this list be without the true forefather of the modern word processor? Office 365 gives you the complete suite of online Office tools including Word, Excel, PowerPoint, Outlook, OneDrive, and OneNote. Remember the old days when you had to buy licenses for new Office products every few years? Yeah, too painful to remember. This is the online solution to that problem.

Etherpad
If all you want is a collaborative text editor that will allow you to simultaneously write and edit text, check out Etherpad. It's free, open source, and cross-platform.
D. Knowledge Center Tools
Confluence
This tool by Atlassian allows you to build a centralized knowledge center where all processes can be documented and shared outside of work silos. And because it's by the same maker as JIRA, it is much easier to connect issues or bugs with your wiki entries in the knowledge center.

Bloomfire
Another tool for creating a centralized repository of information for your company, Bloomfire does this by making it easy to upload and manage all content from any device. Even better, search is fast and painless, which is integral to finding the right info at the right time.

Guru
As a central knowledge base, Guru prides itself on instantaneous search results. But the key factor in this tool is its browser extension, which allows you to search from wherever you are on the web and get your result "cards" (containers for your data) in lightning speed.
E. Filesharing Tools
Dropbox
The usual suspects frequent this section. First up is Dropbox, which makes it supremely easy to upload and sync files no matter which device you have. While the free version is useful for individuals, the business plans provide more space and support more sharing.

Box
As Dropbox became a household name early on its existence, Box built its business more for the enterprise. It still has effective filesharing capabilities, but now also touts the ability to secure and edit files from anywhere.

Hightail
Share images, videos, PDFs, and more with your team using this filesharing tool. Any type of file format is previewed easily, so that you can leave feedback on any of these files and get closer to final approval for your project deliverable.

MediaFire
While other tools have come and gone, MediaFire has stuck to its guns and focused on being a simple but still effective file storage platform. The same features and functionalities apply: multi-device sync, forever free plan, and more.

SugarSync
Of course this tool backs up your files, but an added bonus is that you can use your existing folder structure, making it that much easier to find things since it's set up the same way your storage folders are on your personal computer or local network.
F. Internal Social Network Tools
Jive-n
This is primarily an internal social network that includes file sharing. Users can post updates that the rest of the team can see, or it can become an internal wiki to help you disseminate up-to-date reference documents. Except this time around, you've got some built-in gamification (achievement unlocked!) in order to motivate people to use the tool and keep coming back.

Workplace by Facebook
Originally known as Facebook for Work, this allows you to use all your favorite and familiar Facebook tools (news feeds, voice and video calling, group discussions, and more) to interact with your colleagues. It is separate from your personal Facebook account — because this is supposed to be used for serious work! Just make sure you turn off notifications if you start getting too distracted by all the pings.

Yammer
Here's another blast from the past. Yammer is one of the first social networks built specifically for usage within the office. Users have the ability to post updates and communicate in groups as well as specific channels.
G. Mockup & Prototyping Tools
InVision
Their tagline is "Design Better. Faster. Together," which is pretty accurate, as this tool allows designers to quickly create clickable mockups that can then be shared with the team. It allows team members to review and provide feedback on mocks, an essential tool for any company that prides itself on its speed and agility.

Marvel
This is another easy-to-use mockup tool. Marvel makes it fast and efficient to create and collaborate on mobile, tablet, and even desktop prototypes of apps and websites. Best of all, you can draw directly into the UI, which sometimes is all you need.

Mockup.io
Ultra simple, ultra fast mockup tool that allows "hotspot" linking, just like the previous two tools. The differentiating factor? Mockup.io is free.

Justinmind
This sophisticated prototyping tool goes beyond simply giving you rectangles and circles to lay out in a user interface. Along with extensive menus and options, Justinmind allows you to build everything from a simple wireframe to a full-fledged GUI.

Flinto
Flinto allows you to quickly put together a more refined product idea while still giving you the power to do some timeline-based animation and gestures. Also, unlike more complicated prototyping tools, the learning curve here is much smaller. The app comes in 2 flavors: a Mac app and a browser-based lite version.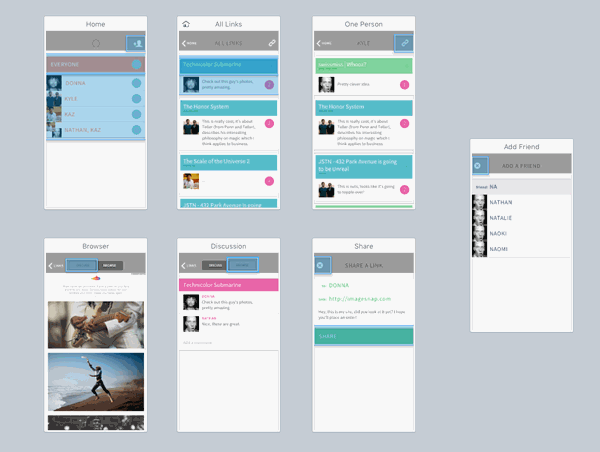 CanvasFlip
Yet another prototyping tool, but this time, with built-in UX analytics so you can see the areas in your design that need to be improved. For example, you can record video of what actions your users take, see in which screens they drop off entirely (aka conversion funnel), and even look at interaction heat maps so you recognize the prime real estate in your design.
H. Project Management Tools
Wrike
If you're looking for a tool to plan and organize projects within a real-time workspace, then Wrike is it. You can manage and customize the entire flow of work — from incoming requests, to delegating tasks, to reviewing initial drafts, to providing feedback and approving revisions, all the way to project completion. Wrike delivers that in a real-time workspace that adjusts to fit your needs. Plus: custom workflows & statuses, Gantt charts, customizable reports, time tracking, board view, and much more.

Zenkit
A newcomer to the project management space, Zenkit is an online tool that gives you the flexibility to view your work data in many different ways: as a Kanban board, as a list, as a calendar, even as a mindmap, a unique feature all its own.

Trello
Extremely popular PM tool that allows you to quickly build Kanban boards so you can visualize a project broken down into task cards. This means you can easily see if something is being done and who's doing it. Recently bought by Atlassian, makers of Confluence and JIRA.

KanbanFlow
But if all you need is a Kanban type board to see who is doing what, then there is the simplicity of KanbanFlow. It organizes all your tasks into columns and even gives you a time tracker that can be used to monitor hours spent working on a specific task.

Zoho Projects
Build project workspaces where you can collaborate with your team. Like similar tools, you get chat and commenting, a stream of all activities you're involved in, project forums (topic-specific message boards) and the ability to create an internal wiki or knowledge base.

Podio
The power of Podio lies in its users being able to create any combination of Podio "apps" by a simple drag-and-drop interface. Beyond that, you get the staple project software functionality: from collaboration and communication tools to various integrations with external apps.

GanttProject
If your team has no need for bells and whistles and simply wants Gantt charts for visualizing project schedules, then Gantt Project is your free and open source solution.
I. Time Tracking Tools
Harvest
A popular choice for time tracking on any browser and on any device your team may use, from laptop to mobile device (and yes, even Apple Watch). All this plus a manager approval function make this a versatile choice for logging time spent on work.

Toggl
And then there is Toggl, which you can integrate with several of the major project management tools as well as productivity software. With features like real-time entries and instant overviews of billable time, it is an indispensable tool for billing.

FreshBooks
If you need client billing and invoicing, expense organization, or even time tracking, this online cloud solution should help. FreshBooks was created to ease the stress of the small business owner and his team with its array of useful features.

Hubstaff
How do you track the time of your remote staff? Hubstaff offers a unique solution that tracks time as well as takes screenshots of your team's work, even providing you with keyboard and mouse activity level data. You get reporting on the time your team has spent working on tasks, and can pay your remote team more accurately too.
J. Miscellaneous Tools
Prezly
What about your stakeholders? Prezly makes it easy to track and communicate with your stakeholders so that they are never the last to hear about an important milestone. The tool gives you newsrooms, contact management, and even outreach.

Deekit
If all you need is a virtual whiteboard, Deekit has it. Create online drawings, graphs, text and more, and even share previous whiteboards with participants.

CoSchedule
An editorial calendar makes the life of a marketing project manager a lot easier, and CoSchedule is one of the best. Plan out your blog, social media updates, and more — all from one place.

IBM Silverpop
This digital marketing platform unifies your marketing automation, social media, email, and more. Converse with prospects on multiple platforms while measuring relational results.

Widen
What does a DAM do? It allows you to create, manage, and distribute content easily to the right people at the right time. Widen is a Digital Asset Management tool that can easily become the central hub for all your sales and marketing materials.

Hootsuite
How could you collaborate on your social media accounts without a tool like Hootsuite? With the team, business and enterprise plans, you get multiple users, a ton of social profiles, and everything from analytics and reports to publishing approvals and custom branded URLs. A must for any organization serious about increasing engagement on their social media channels.
What tools do you use to collaborate with your team?
If they're not listed here, then hit the comments and tell us what's missing. Your input will help us keep this list fresh and useful. Happy collaborations ahead!