You stay productive at work. You're always go-go-go at home. Your schedule is too full to sit down and read a book, even if it's for professional development. 
But unless you want to stagnate at work, professional development should be an important part of your weekly routine. Podcasts are a wonderful way to squeeze in some learning time every week, they can count toward your Category C PDUs, and they're often free! Listen while you're commuting to work, cooking dinner, dropping your kids off at their extracurricular activities, or putting in those miles on the treadmill.
We've collected a list project management podcasts for your enjoyment. Most of the podcasts on our list still release new episodes regularly, but we also included a few that no longer serialize at the bottom, since their old episodes still provide good lessons to look back on.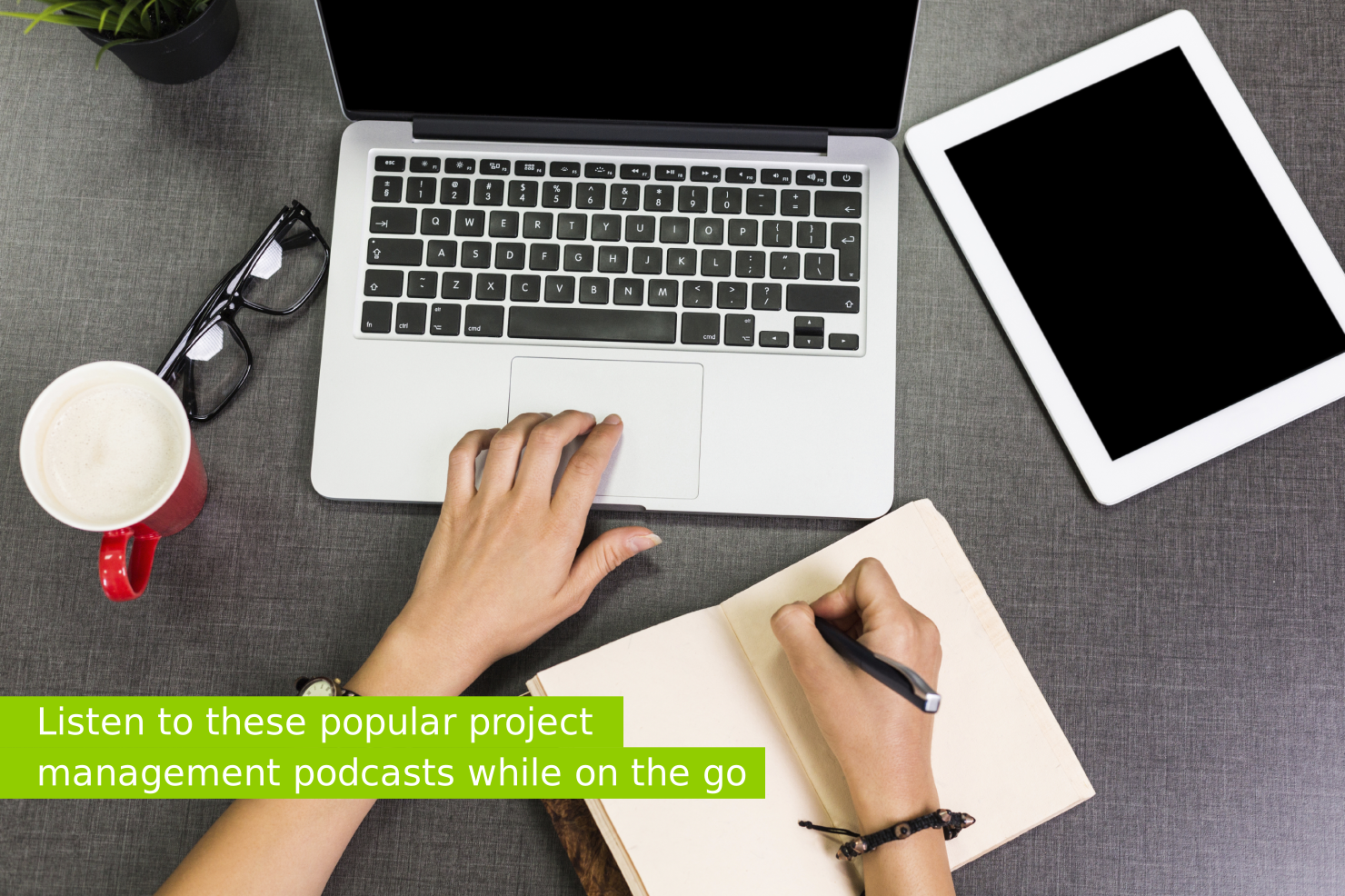 1. The PM Podcast
Hosted by Cornelius Fichtner, The PM Podcast is one of the most high-volume project management podcasts around with 300+ episodes already published on all topics related to project management. They interview noted project managers, and also team up with The PM PrepCast to help prepare you for the PMP exam. Their episodes are typically released at least once a week (if not more frequently) and last less than 30 minutes.
2. People and Projects Podcast
Hosted by Andy Kaufman, People and Projects Podcast has 100+ published episodes. Their interviews cover topics related to the intersection between people and projects, where leadership meets project management. Recently, they have started placing a key quote at the top of every new podcast post to give you more insight into the topic discussed during the podcast — pretty handy. They release a new episode every 3-4 weeks, running anywhere from 30 to 60 minutes. 
3. 5" PM Podcast
Hosted by Ricardo Vargas, the 5-Minute PM Podcast has nearly 400 episodes, each only 5 to 10-minutes long — very easy to digest for shorter commutes or productivity breaks at work. New episodes are released with anywhere from 1 to 4 weeks in between, and cover a variety of project management topics. The podcasts are also organized into 15 different playlists, so you can conveniently choose an area related to your interests: PMO, Programs and Portfolios, Highly Effective Teams & Leadership, Risk Management, and more.
4. The Lazy Project Manager Podcast
Hosted by Peter Taylor, this podcast began in 2013 after he published his best-selling book by the same name. He has been described as one of the most entertaining and inspirational speakers in project management today, and is a passionate advocate of working smarter, not harder. New episodes are released irregularly, but at least once per month, and typically run 15 to 45 minutes.
5. PM for the Masses Podcast
Hosted by Cesar Abeid, PM for the Masses focuses on interviewing different experts for tips on being a stand-out manager, ways to improve your project management expertise, and also offers his own personal stories about project management triumphs and falls. Tags on each podcast make it easy to sort through the nearly 100 episodes to find the interviews related to your interests. PM for the Masses releases a new 20-60 minute episode about once a week, or more frequently when he is running a series.
6. The Sensible Project Manager Podcast
Hosted by Mark Phillipy, The Sensible Project Manager Podcast has released just over 20 episodes, and wants to lead new discussions about project management. His interview guests have included podcast hosts on this list, and some of his episodes deviate from the popular interview format, sharing his own thoughts instead. Phillipy also hosts the Sensible Project Manager Hangout Community on Google+ Hangouts. Podcast episodes last anywhere from 20-minute self-shares to 60-minute interviews.
7. The Digital Project Manager Podcast 
This series is hosted by The Digital Project Manager, a site with useful resources, training, and community for DPMs. The episodes go beyond theory and best practice, featuring interviews with PM experts on the field. Each 30-minute episode provides greater depth on the recent articles they've published on The DPM site, and it also dives into their current insights and discoveries as a PM.
While these podcasts are no longer publishing new episodes (as far as we can tell), their archived episodes still contain helpful information to further your project management expertise.
8. Guerrilla Project Management Podcasts
Hosted by Samad Aidane, this podcast published only 10 episodes, but their accompanying blog published many more posts. Interviews focused on interesting, off-the-beaten-path topics, such as: Assertiveness for Women in Project Management, Cultural Neuroscience for Global Project Managers, and Risk Psychology: Understanding Risk Personality Types.
9. Project Management War Stories
Hosted by Wayne Thompson, he published 52 podcast episodes. He teaches fundamental project management principles, and shares some lessons learned from old successful and failed projects. Some of his episodes are as short as 4 minutes, and most clock in at under 20 minutes.
If we're missing your favorite podcast, add it to the list in the comments below. Otherwise, let us know if you listen to any of these project management podcasts, and share a link to your favorite episode.
Related Reads:
23 Project Management Books for All Experience Levels
Everyone's a Project Manager — Yes, That Means You (Video)
8 Project Management Infographics You Have to See