If you're in search of a versatile work management platform for your team, you've likely realized just how many options there are on the market. But since each business has unique requirements, some solutions will be a better fit for your team than others.
In terms of contemporary project management tools that provide valuable features and essential functionalities at reasonable pricing, Wrike and ClickUp are often on the shortlist. Although many features may seem similar at first glance between these two systems, upon closer examination, you'll discover some significant differentiators that set each platform apart and make them unique.
Let's compare ClickUp to Wrike as well as to other common ClickUp competitors Monday.com, AirTable, and Jira — so you can understand why Wrike is the best ClickUp alternative. Or start a free two-week trial of Wrike to jump straight in and see for yourself!
What is ClickUp?
ClickUp is an all-in-one project management tool and productivity app designed for all users, offering 100+ features to help manage projects and teams and making it a good tool for task and resource management. ClickUp's features allow teams to collaborate and work together all in one place to achieve project goals, completion, and success.
Users can manage resources, complex projects, project budgets, and more with ease through the app's intuitive interface. ClickUp provides all the right tools to support project planning and maximize productivity. This application also offers various functions for digital asset management, time tracking, file sharing, and pre-built templates that you can customize to quickly set up your workspace.
Reasons to upgrade from ClickUp
ClickUp may be an easy tool to get started with, but it also has some significant limitations in its project management capabilities. The tool sells itself as a cross-functional platform capable of managing complex work easily, but its lack of features leaves busy teams that handle large-scale projects wanting something more. So if you're looking for project management software that's a better fit for your team than ClickUp, you can learn more about the top ClickUp alternatives below.
Pros and cons of ClickUp
Before we jump into the four top alternatives to ClickUp, let's dive into the project management tool's top advantages and disadvantages.
ClickUp pros
ClickUp allows teams to manage all their work and projects in one place from an approachable and simplified interface. ClickUp offers some pros including:
Multiple views for the same work

Easy onboarding for teams to quickly get started

Free-forever option, or payment plans starting at $5/month per user

Ability to assign tasks with due dates and timelines

Some automated workflows, reporting, and integrations
ClickUp cons
Though ClickUp is a decent work management platform liked by its users, a few key areas could be improved. The biggest ClickUp cons are:
Poor scalability.

ClickUp can be slow and laggy at times, especially when working with larger projects or teams. As more data is added to the account, ClickUp continues to slow down. This can lead to frustration and decreased productivity for users, making ClickUp a bad match for larger teams and enterprises seeking a scalable solution.

Limited reporting and analytics.

ClickUp offers very limited reporting and analytics views. While the graphs in ClickUp are very colorful and easy to build, they are not very detailed or insightful. Plus ClickUp reports are not very customizable or flexible, making them difficult to use.

Restricted workload views.

ClickUp's workload views are limited, and it can be difficult to get a clear picture of team capacity and workload distribution. Users can only view up to four weeks ahead, making it challenging for managers to effectively allocate resources and balance workloads.

No approval tasks.

ClickUp doesn't offer approval tasks, which can be a critical feature for some teams. Without this functionality, teams may need to rely on outside tools or manual processes to get approval on tasks or projects, which can be time-consuming and inefficient.
ClickUp alternatives to know
Now that you understand the pros and cons of ClickUp, let's compare the tool to its competition. In our opinion, the best ClickUp alternative is Wrike. But let's dive into the details to compare the features and capabilities of the top four alternatives to Asana: Wrike, Monday.com, AirTable, and Jira.
ClickUp vs. Wrike
In our opinion, Wrike is the best alternative to ClickUp. And with recent Wrike Lightspeed updates, Wrike decidedly beats ClickUp with:
More pricing options

Usability and scalability

Better reporting and visibility

Enhanced customization
Cheaper pricing
ClickUp does offer a free-forever option, but its limited functionality isn't worth it. Wrike offers plans starting at $9.80/month per user. Even to match just some of the functionality in Wrike's Team plan, ClickUp's Unlimited plan won't cut it. You'll have to at least upgrade to ClickUp's Business plan and pay $12/month per user — making Wrike the cheaper, more valuable option.
Easier to use and scale
Wrike has a more modern and visually appealing design than ClickUp. And with Wrike's recent UI overhaul as part of Wrike Lightspeed, users can now leverage the robust capabilities of Wrike in a more simplistic design.
Wrike is a highly scalable platform that can handle large amounts of data and projects without timing out. This makes it an ideal solution for businesses that need to manage multiple projects simultaneously. Additionally, Wrike's interface is user-friendly and intuitive, making it easy for teams to adopt and integrate into their workflows.
Better reporting and visibility
ClickUp's reporting capabilities are too simplistic for enterprise companies. Wrike provides in-depth automated reporting, which significantly reduces the time teams spend generating and distributing reports. Wrike lets you create shareable reports on projects, tasks, and subtasks, so you can get a complete 360-degree view of your team's productivity and efficiency.
Plus, Wrike lets you customize how each user views reports or dashboards. For example, if you created a dashboard for "Assigned to Current User," then any and every user who clicks into that report will see items assigned to them.
ClickUp can't match Wrike's customization. Wrike allows users to customize their workflow to fit their needs with custom fields, tags, and workflows. These customizations can be set up at the project, folder, or task level, allowing for flexibility and efficiency. Additionally, Wrike's custom fields can be used to track specific data such as time, budget, and progress, providing users with a more detailed overview of their projects. Wrike's customizability extends to its reporting options as well. Users can create custom reports with specific data points and filters, making it easier to analyze and communicate project progress to stakeholders.
ClickUp's customization options are not as comprehensive as Wrike's. While ClickUp offers custom fields and tags, they can't be applied at the task level. ClickUp also has a limited number of custom statuses, and users can't create custom workflows. Additionally, ClickUp's reporting options aren't as flexible as Wrike's, with only basic reporting available.
ClickUp vs. Monday.com
In second place, Monday.com is another alternative to ClickUp. Monday.com is a cloud-based software that allows teams to create custom workflows to plan, run, and track processes, projects, and everyday work. Here are some key ways that Monday.com beats ClickUp:
User interface.

While ClickUp is customizable, it can take some time to navigate and get used to. On the other hand, Monday.com is more user-friendly, with a clean and intuitive interface that makes it easy for teams to get started and use effectively.

Time tracking.

Monday.com offers great features and reporting for tracking time on its Pro plan, which costs $16/month per user. While ClickUp offers time tracking too, the features and reports aren't as robust or easy to use as those in Monday.com.

Spreadsheet view.

If you're looking for a tool that operates primarily in a spreadsheet view, Monday.com is the better option. ClickUp's spreadsheet view is limited, and it can be challenging to sort and filter data as needed.
That said, ClickUp does have some advantages over Monday.com. It offers more integrations and customizability, making it ideal for teams that need to connect different tools or create a unique workflow. Additionally, ClickUp has a more advanced hierarchy system for organizing tasks and projects, which may be a critical factor for some teams.
ClickUp vs. AirTable
In third place, AirTable is another popular alternative to ClickUp. But AirTable has its own limitations, so let's compare the two. Primarily a spreadsheet-style project management tool, AirTable beats ClickUp with:
More flexibility.

Airtable's flexible database allows you to build your own workflows, views, and fields to suit your team's unique needs. ClickUp also offers custom fields and views, but they're not as robust as Airtable's.

Better collaboration.

Airtable excels in team collaboration, allowing multiple users to work on a record simultaneously. This feature is especially helpful for teams that need to coordinate and communicate in real time. While ClickUp also offers collaboration features, Airtable's user-friendly interface makes it easier for teams to work together.

More integrations.

Airtable has a vast array of integrations, including with popular tools like Slack, Trello, and Zapier. ClickUp also offers many integrations, but Airtable's offerings are more extensive.
That being said, ClickUp offers better time tracking and resource management. You can get those features in AirTable, but you'll have to pay up for upgrades in order to effectively use those features.
ClickUp vs. Jira
Finally, Jira is another decent alternative to ClickUp. But let's dive in further to compare the two properly. Primarily an issue response or ticketing tool, Jira bests ClickUp with:
Agile development. Jira is designed for agile development, with features like scrum and kanban boards, agile reporting, and sprint planning. If your team follows agile methodologies, Jira's features will be essential for planning and tracking work. While ClickUp offers some agile features, they're not as extensive as Jira's.
Customizability.

Jira is highly customizable, allowing you to create custom fields, workflows, and screens to fit your team's needs. While ClickUp is also customizable, Jira's flexibility and power may be more suitable for larger or more complex teams.

Integrations.

Jira has a vast array of integrations, including with popular tools like GitHub, Slack, and Confluence. As mentioned, ClickUp does offer some integrations, but Jira offers many more.
If you follow agile methodologies and require extensive customization and integrations, Jira may be the better choice. If you're just looking for a basic task management tool to get you started, ClickUp may be the way to go.
Learn why people choose Wrike over ClickUp today
Overall, Wrike is the best alternative to ClickUp. While ClickUp is a good option for teams who need to manage a small amount of work, it's hard to stay organized or scale. If you want to streamline team management and have all of your team's workflows and processes standardized in one place while enhancing collaboration, then Wrike is the ideal tool for you at only $9.80/month per user.
ClickUp's plans are limited and rely on workarounds or integrations to make up for the lack of key features, customization, robust reporting, and more. If you need a platform that has all the automation and work management features you need in an easy-to-use, customizable interface, Wrike is the best option out of all the ClickUp competitors or other apps like ClickUp.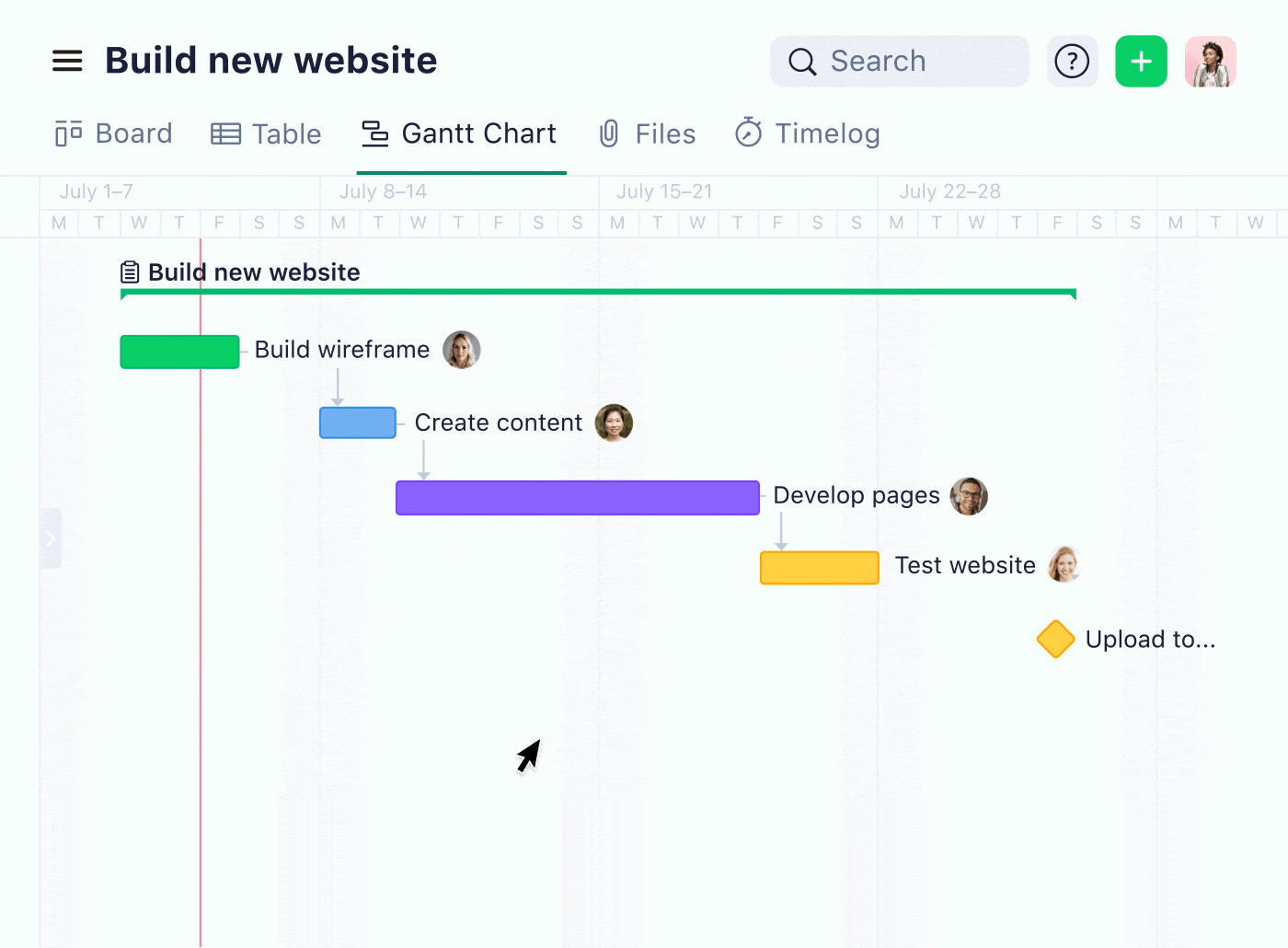 Start a free trial to see how Wrike enables 360-degree project visibility, powers smart automation, and transforms strategy into results.