Weekly To-Do List Template
Start your workweek the right way with Wrike's to-do list template.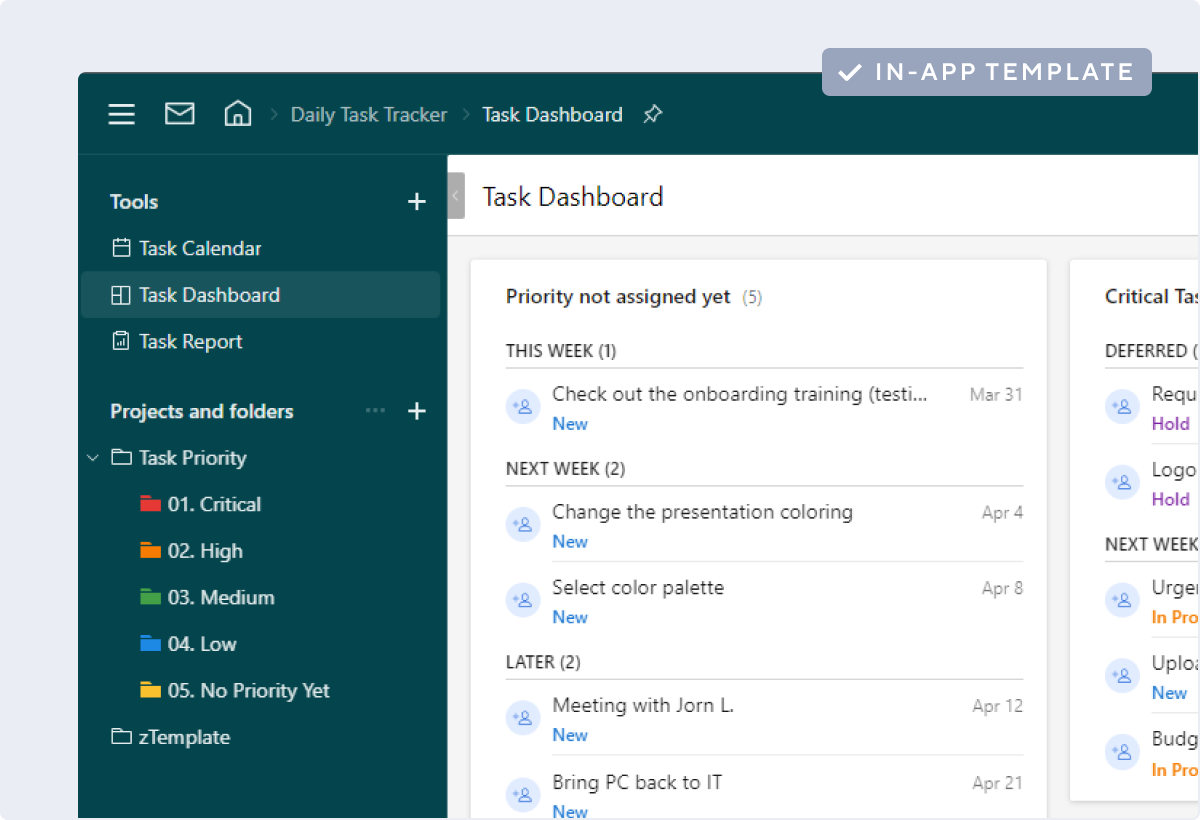 #todolisttemplate
#weeklytodolist
#weeklytodolisttemplate
#weeklytodo
Take control of your weekly to-do list
It doesn't matter if you're a team member or people manager — as employees, we all have multiple tasks that require attention every week.
To successfully meet each of your weekly goals, you need an efficient system that breaks down your workload and structures it in a way that suits you.
Do you need some help with:
Logging tasks?
Assessing priorities?
Meeting deadlines?
Wrike's weekly to-do list template can easily solve these pain points.

Record all outstanding tasks in your Wrike workspace
Prioritize tasks depending on their urgency level
Assign due dates and track them on a visual timeline
Why you need this to-do list template
Streamline weekly tasks
Eliminate forgotten tasks and scattered details by creating an all-in-one storage hub for your weekly to-dos. Save time searching through sticky notes and email threads — create a single source of truth with Wrike.
Tailor your workspace
Tired of inflexible tools? Wrike's weekly to-do list template is designed to work for your team — not the other way around. Explore multiple view options and customizable features to suit your unique requirements.
Share project updates
Sometimes, working in silos means important updates aren't communicated properly. By logging all your weekly tasks in this to-do list template, each stakeholder can get an instant overview of project progress.
Uplevel your task management
How to use Wrike's weekly to-do list template
It's Monday morning — time to organize your tasks for the workweek. Let's take a look at the specific features you'll need.
Wrike's weekly to-do list template has a range of tools to help you simplify your task prioritization.
Now you're ready to customize this template in your Wrike workspace.
The to-do list template is extremely intuitive — simply follow these three steps to kick-start your weekly planning.
Step 1: Add a new task
Click the green '+' button at the top right of your dashboard to access the in-built request form and create a new task. Include the task title, urgency level, and due date. Add additional comments if necessary, then submit your form.
Your new to-do list item will now appear in the relevant task priority folder: Critical, High, Medium, Low, or No Priority Yet.
Step 2: Visualize your weekly to-do list
There are multiple ways to view the tasks in your to-do list. Start with the color-coded calendar to get an instant overview of your weekly deadlines.
Next, move to the in-built dashboard, which has separate widgets for each level of task priority. You can then switch to the report to zone in on specific details, such as due date.
Step 3: Tailor your workflow
Once your workweek has started, you might find that some tasks become more or less urgent as new situations arise. Luckily, Wrike's to-do list template is highly flexible.
Customize the widgets in your dashboard to adjust priority areas and easily switch tasks from one widget to another to reflect changing urgency levels.
More than a to-do list template
Yes, Wrike's to-do list template can help you organize your weekly tasks. But our versatile platform also offers other task management tools that might be useful for your team.
Take a look at these alternative features that can optimize your resources, accelerate team productivity, and streamline your project management.
Wrike's all-in-one software has everything you need to simplify your task planning and ensure your team delivers successful outcomes every single week.
Master your weekly to-do list
This template helps you take control of your weekly to-do list by streamlining requests, categorizing tasks by urgency level, and providing a full overview of task progress.
Wrike's weekly to-do list template includes a pre-built request form, calendar, dashboard, and report, as well as sample task priority folders.
Yes, this to-do list template is free, and users with access include those on Wrike Business, Wrike Enterprise, and Wrike Pinnacle.