Please note
:
As of July 1, 2021, this feature may no longer be packaged as described in this blog post. Our award-winning software still has the same versatile capabilities as before, however. Check out our pricing page for more information.
Video producers have a very complex job. Between coordinating equipment, talent, lighting, locations, crew, motion graphics, and sound design, even simple videos are complicated projects. Trying to achieve perfection takes experience, attention to detail, and multiple iterations.
We've all been in a situation where the client asks where the final deliverable is, and we point out they never responded to our email about the revised color scheme. Then everyone searches their inboxes for the ancient email thread to piece together evidence. With Wrike's Proofing & Approval Add-on, searching for evidence is a thing of the past. All your feedback for each version is centralized and tracked, leaving an audit trail nobody can deny.
Now, you can use the Wrike Proofing & Approval Add-on to review and approve all of your video assets, use more advanced markup tools, and seamlessly connect your video editors to your workflow using our Adobe® Creative Cloud® Extension for Adobe Premiere. The P&A Add-on is included with Wrike for Marketers or available as an add-on feature to Pro, Business and Enterprise accounts.
Video Proofing

Attach local video files or YouTube links to any task and ask your team for feedback. Click on a comment to go directly to that point in time and finish your video projects faster and more efficiently, while keeping a record of what was said.
Efficient storage - centralized location for video assets
Clear feedback - make contextual comments at specific time markers
Supported file types - MP4, FLV, MOV, 3GP, AVI and YouTube links (Note: 4gb maximum file size)
See how it works
Advanced Markup Tools
Sometimes clicking on an image is just not enough to express yourself. Now, you can use Arrows, Free Draw or Rectangles to give more accurate feedback on images and videos. You can also highlight specific lines of text on PDF documents, giving you the creative control you need.
Arrows, Free Draw & Rectangles - Express your comments the way you want to
Text Highlight - Direct attention to specific text in a PDF document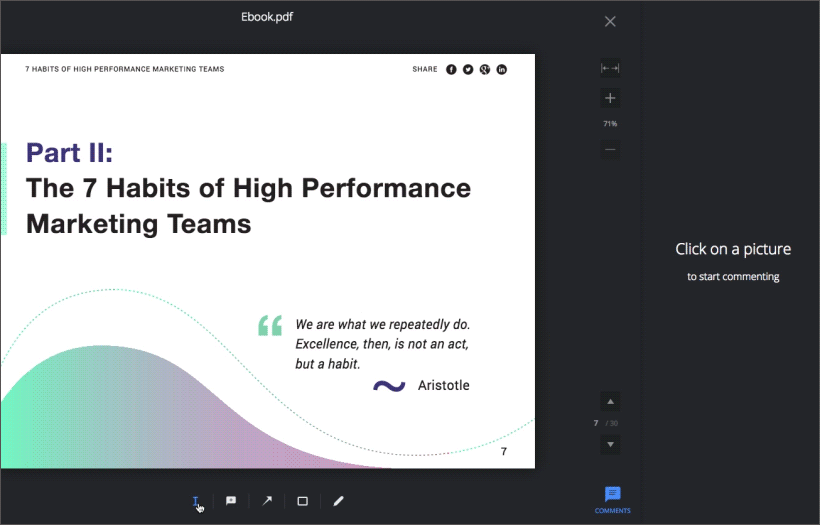 Creative Cloud Extension for Adobe Premiere
Don't leave your video editors out in the cold. Bring them into your workflow and allow them to collaborate with the rest of the team. Streamline the process of getting rough cuts reviewed and send them comments directly inside of Adobe Creative Cloud so they know what you need without them having to leave their comfort zone. Get the Adobe extension now.
Interested in the Proofing & Approval add-on?