Gaining realtime access to your work from anywhere is a necessity as our companies sprint toward success. Which is why today we're happy to share several big enhancements to our iOS app to help you stay productive and keep work moving forward anytime, anywhere.
Visit the App Store today and see it for yourself.
Improved speed and performance
We've completely rebuilt our iOS app from the ground up to make it both faster and more reliable. If you used the prior version, you'll notice an immediate difference in the performance.
Easily manage your work wherever you are
We've made it easy to access your to-do list, quickly add new tasks, find existing tasks, add attachments, and read files so you can stay on top of your work from your phone or tablet. A few of the new additions in this release are:
My Work: Stay on top of all of your personal to-do items for the day, week, and the coming week, so you never miss an important deadline.
Streamlined Task Creation: Create action items on the go, faster.
Filters: In addition to powerful search, we've added filters so you can quickly find the tasks you need.
Attachments: Need to capture whiteboard diagrams from your brainstorming session? Take a picture directly from a task in the app. The photo will automatically be added as an attachment. You can also attach existing pictures and files from your phone.
Improved communications
Our new app includes several improvements to help you stay connected with your team. First, it's now easier to see the notifications that matter. With so many app notifications to contend with, it's easy to miss important updates. But we let you control which types of notifications you want pushed to you.
Secondly, you told us you wanted more space in the task descriptions and we heard you loud and clear. The new design gives you more space for taking notes or writing detailed project briefs.
Added Custom Workflows
The iOS app now also includes Custom Workflows*. Any new statuses or workflows you've enabled for your account will be reflected in iOS, so your team will have a consistent experience across the web, Android, and iOS.
Beautiful new iPad design
This update includes an elegant redesign of the iPad app including the three-pane view you're used to on the web. Plus, the improved navigation lets you easily toggle between folders, tasks, and subtasks, so you can efficiently maneuver through your work. Improved commenting and editing makes it faster to capture notes, update descriptions, and respond to coworkers. Try Wrike on your iPad today — you'll love it more than ever.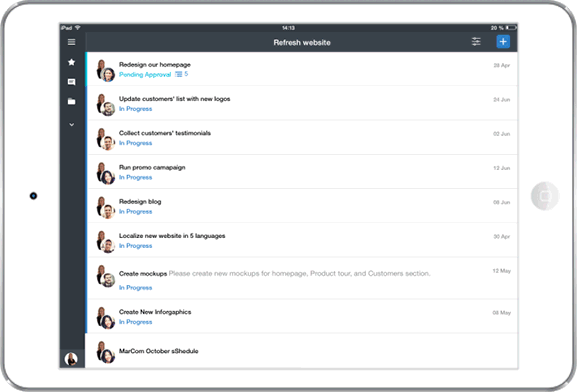 There's more to come!
We're excited to share that this is just the beginning. Over the next few months we'll be adding many more enhancements to the iOS app, including some of our most popular web features, such as Dashboards.
Get the Wrike iOS app today!
Get our new iOS app today in the App Store. For all of our Android users: get our top rated Android app in the Play Store.
*Feature is available for Enterprise users.