Should someone among your friends, family or colleagues use Astrid 
task management tool
 as their to-do app, you will want to let them know about our exciting update! Recently it was announced that Yahoo! is acquiring Astrid. However, Yahoo! has not revealed what their plans are for Astrid after its acquisition. We suggest that
Astrid users ensure their productivity is safe and blooming
no matter what :) In just a couple of clicks they can
import their tasks from Astrid to Wrike and easily collaborate on them in our
iPhone
and
Android
apps. Should someone among your friends, family or colleagues use Astrid
task management tool
as their to-do app, you will want to let them know about our exciting update! Recently it was announced that Yahoo! is acquiring Astrid. However, Yahoo! has not revealed what their plans are for Astrid after its acquisition. We suggest that
Astrid users ensure their productivity is safe and blooming
no matter what :) In just a couple of clicks they can
import their tasks from Astrid to
Wrike
and easily collaborate on them in our 
iPhone
and
Android
apps.
Getting familiar with Wrike will not be a problem for Astrid users as it has all the
task management
features they are used to. With Wrike they can easily
create, assign and schedule tasks
. Astrid users will find Wrike's
e-mail integration
to their liking, as not a single
task
will be lost in the clutter of an inbox. 
In addition to the familiar features, in Wrike, Astrid users can
easily collaborate on tasks
and
instantly
see and comment on any update made by their team mates in the real-time
Activity
Stream. They can also conveniently
track time spent on a task and even create tasks without start and due dates to keep track of the "someday" plans.  
Here are
3 simple steps for migrating Astrid tasks to Wrike
:
1. Download your data from the Astrid account.
2.
Create a Wrike account
, if you don't have one yet. Remember that the
free plan
is always at your service ;-)
3. Go to "My folders" in your Wrike account, click on the "import" button in the top right corner of your workspace and choose "Astrid" from the drop-down menu. Then upload the Astrid data file and match the names from the app to your contacts in Wrike.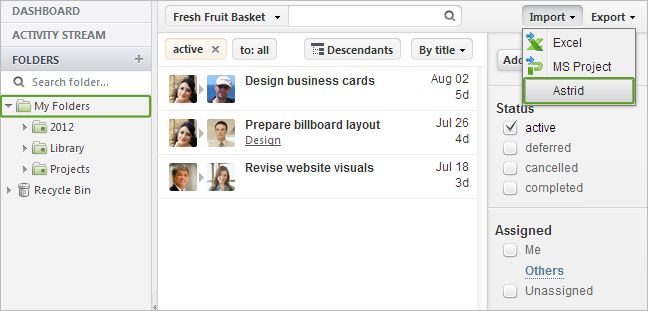 That's it! In case your family, friends or colleagues are worried about the future of their productivity, spread the word that they can easily migrate their Astrid tasks to Wrike and collaborate with them even more efficiently!