Looks like it's document management month in Wrike! Before you could say wow, we've added one more file management feature on the heels of our recently launched
Dropbox integration
. Now, when someone is working on an
MS Office document
right from Wrike
without downloading it
, you can instantly see who exactly is doing this. Your colleague's name appears next to the file title in the
task
's attachment list. Let's see when it can be helpful for you.
Looks like it's document management month in
Wrike
! Before you could say wow, we've added one more file management feature on the heels of our recently launched 
Dropbox integration
. Now, when someone is working on an 
MS Office document
 right from Wrike
without downloading it
, you can instantly see who exactly is doing this. Your colleague's name appears next to the file title in the task's attachment list. Let's see when it can be helpful for you.

Imagine you finalized a report on the latest banner campaign and asked your colleague, Jack, to review it before you share it with your boss. For some reason, your boss suddenly wants to see it ASAP, and he also asked for a diagram that you haven't prepared yet! In Wrike, now you see that Jack has this document open on his computer. It looks like he started reviewing it before he went away for an urgent meeting with a contractor, but you have no idea when he'll be back …
 
No worries, you can stop Jack's session with the file by hovering over his name and pressing the
"Unlock" button
. The document is all yours now. Add and edit whatever you wish! When your colleague gets back to his PC, he won't miss the update, as it'll be reflected in the
task's activity stream
.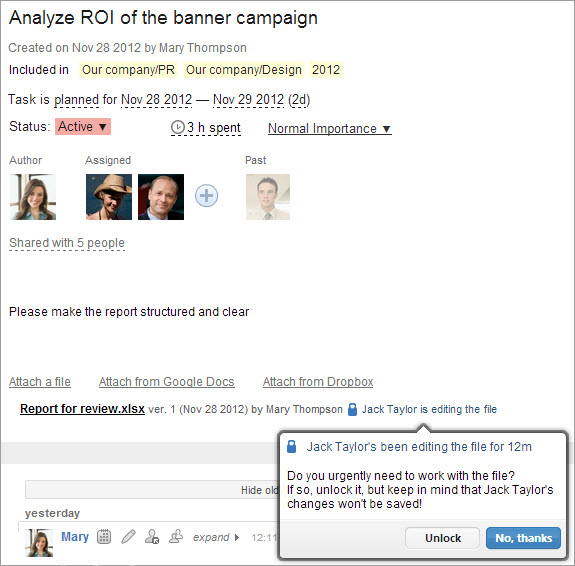 If you face a similar situation, remember that there's this small, yet useful feature to help you through!