"Spreadsheets? Where we're going, we don't need spreadsheets."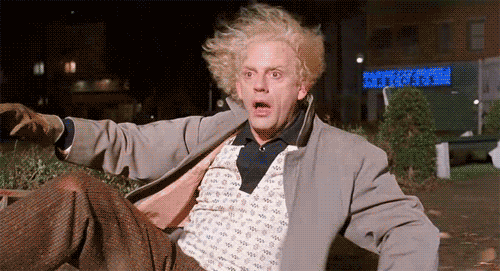 Since buzzwords like social shares, mobile marketing, and (wait for it) Big Data are nothing new and don't really provide a competitive advantage any longer, the marketer of the future will be nothing like the marketer of the past... or present. Marketing has changed more in the past two decades than it has in the last 80 years and we are all just trying to keep up. From data to design to content to creative, customers are becoming harder and harder to impress. According to our 2015 Work Management Survey, here are the top employment predictions for the year 2020:
83% of respondents believe that virtual work will continue to increase.
82% agree that expectations for speed of work will grow over the next few years.
81% expect that Bring Your Own Device (BYOD) will become even more common in the workplace.
To stay ahead of marketing trends, it's important to stop hiring for outdated jobs and evaluate your current marketing landscape for remote work hiring. Start looking at where there are gaps in your marketing organization and what skill sets will keep you ahead of the game or differentiate your company from the competition.
Content Historian
Where can I find all the assets associated with that one campaign? What was that one blog post related to user experience? Do we have a use case on IT teams? These questions commonly hit random people throughout the marketing team and eventually become a game of telephone and email threads. When sales has a hot opportunity, they need assets ASAP. Hiring a content historian to wrangle and archive all your content and categorize them by tying them to a related project or use case can be invaluable to an organization. Plus, having a single point person who can inform you what pieces you have or don't have is a huge boon.
Analytics Storyteller
Getting customer data is no longer an issue. The challenge is understanding the data you collect and making it actionable for everyone else. Without a plan to integrate customer data into strategic planning and objectives, what good is it? Today, being able to translate analytics into ways to effectively improve messaging and engage customers even further is a huge marketing gold mine. Read more: Why data storytelling is so important (Deloitte University Press).
Mobile Marketer
With remote work becoming more popular and the growth of mobile apps in general, mobile marketing is only going to become more robust and critical to success. From social behavior to crowdsourcing data, there are so many opportunities for engagement and learning on mobile devices. Smart companies will seek out mobile marketers to navigate and optimize their messaging for the mobile experience, using it to their advantage.
Automation Manager
Marketing operations is the backbone that facilitates excellence across your entire marketing organization. However, adopting new tools, training, integrating, and measuring these tools' performance can create a ton of extra stress and bottlenecks, making it impossible to scale. By embracing automation (and hiring someone specifically to handle it), you streamline marketing efforts and help maintain consistent quality, cutting down on small errors that may derail an entire project.
Trends Specialist
When are the next Olympics?
How does our brand fit into March Madness?
Can we piggyback off the latest Game of Thrones episode?
Most importantly, when is National Pizza Day?
Remember, at the end of the day you're talking to humans. Trends specialists (AKA cool hunters or trend spotters) will be in charge of researching and then reporting on what's new, what's cool, and what's relevant to the organization's target markets. Appointing someone to stay on top of news trends and even pop culture topics can be the perfect avenue for prospects to discover your product and feel a connection with your brand.
Building Your Future Marketing Machine
As marketing tools and strategies evolve, so must the roles and responsibilities of your marketing team. Look across your team and ask yourself: what are we missing? By building a futurist marketing engine, you're ready to propel your marketing team well into the next decade!