Media Management Template
Manage successful social media marketing campaigns with this free template. Track performance and monitor progress with Wrike.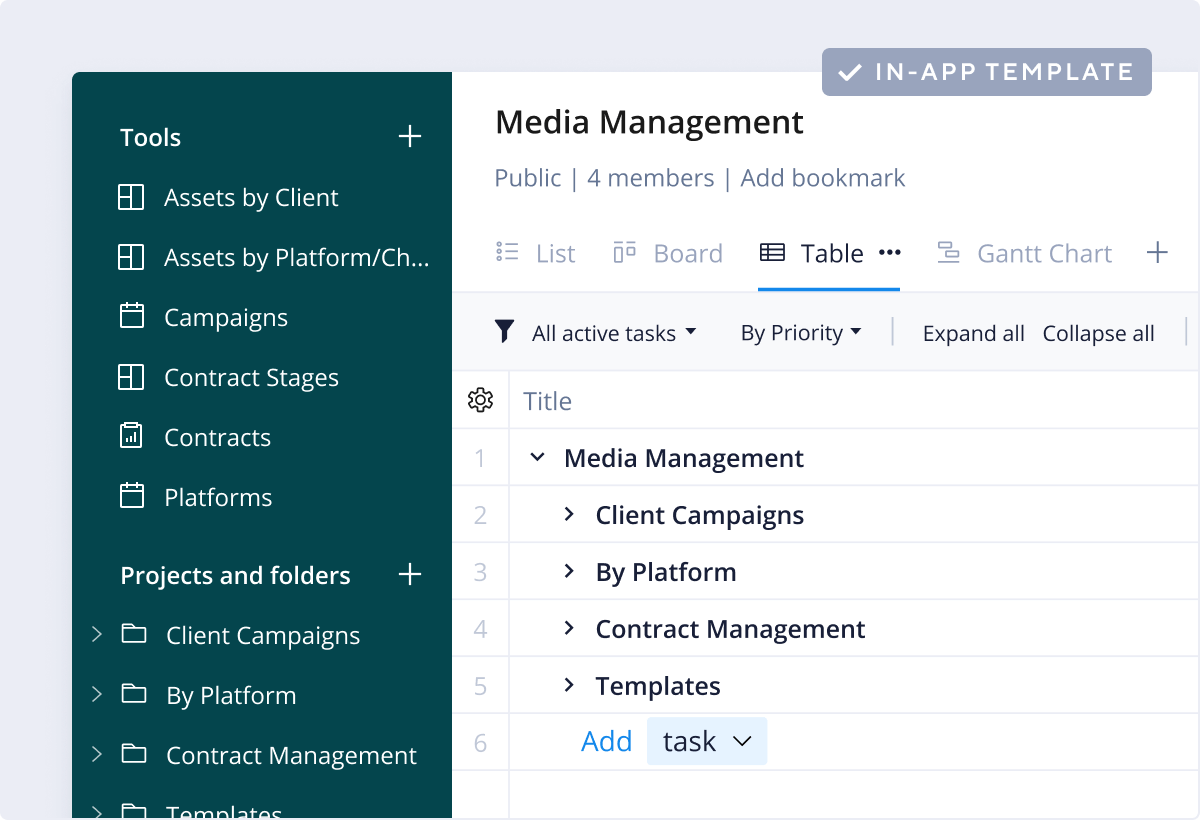 #social media
#campaigns
#project management
#campaign management
Make your social media stand out
Social media management requires planning and organization, as well as careful monitoring. Without a 360-degree view, clients become frustrated, campaigns are neglected, and ads may underperform.
Social media campaign activities are ad hoc and not delivered effectively for clients
External vendor contracts aren't managed or organized correctly, resulting in administrative issues
Digital media teams waste time collating data from various platforms
With Wrike's social media management template, your digital marketing team can easily overcome these obstacles.
Get a bird's-eye view of campaign data to share with clients in a timely and efficient manner
Visualize campaign information by platform to gain a better understanding of what's working
See metrics such as cost-per-click or click-through rates at a glance
Why you need this social media management template
Poor campaign visibility
Wrike's social media management strategy template allows digital marketing agencies to quickly understand the status of campaign activities.
Incomplete communication
Using this social media management report template, data from various social media outlets is pulled into a single platform, improving client communication.
Disorganized contract systems
Our social media management plan template includes a specific contract workflow that details which contracts have been requested, signed, or completed.
Take control of your social media activities
How to manage a social media campaign in Wrike
Ready to take charge of your social media campaigns? Get set up in minutes with Wrike's social media management plan template.
Here are some of the features that will kick-start your social media management.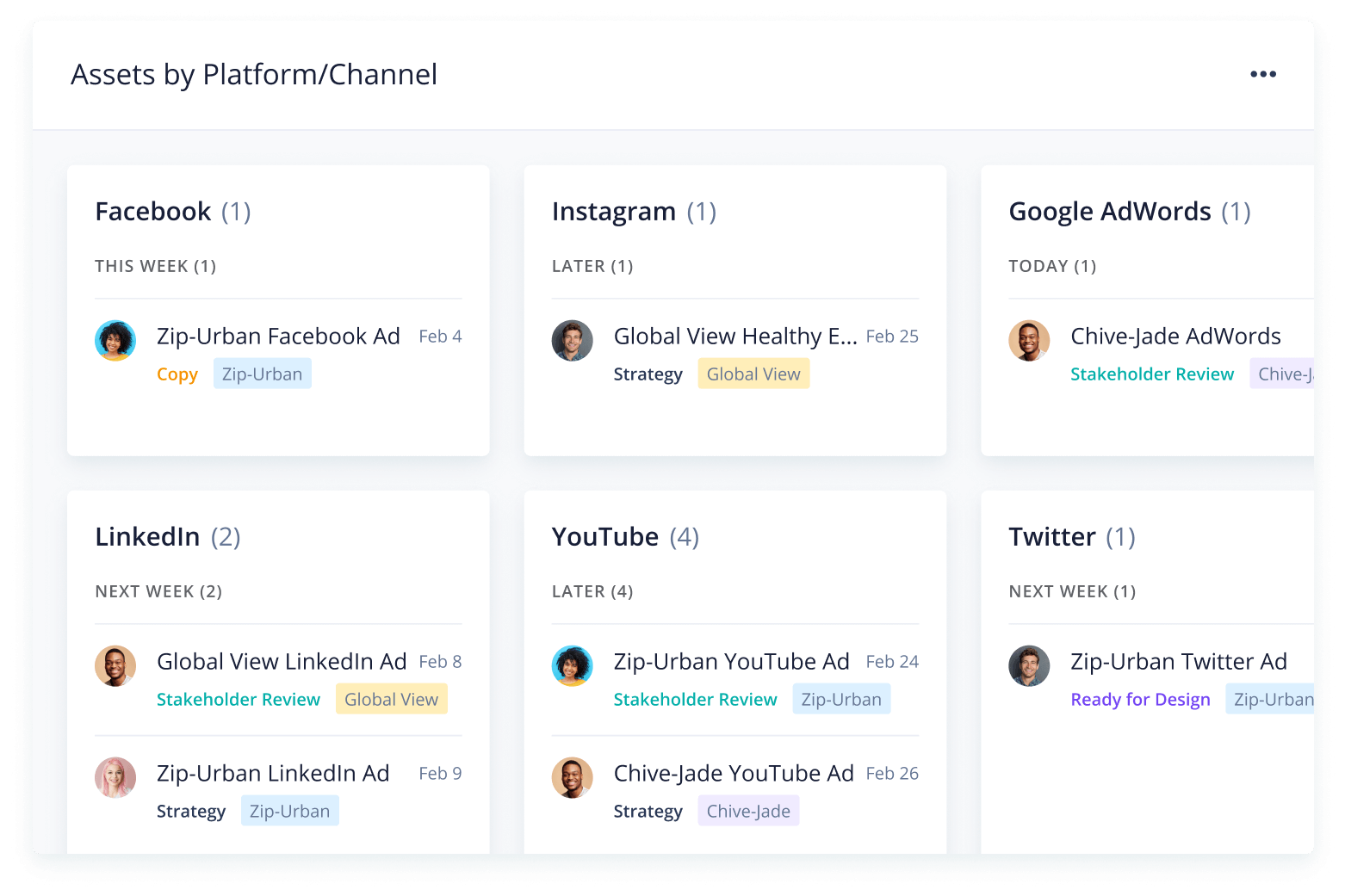 Wrike's social media management template is easy to use. All you need to do is follow these three simple steps:
Step 1: Set up your campaign workflow
This template works hand in hand with the web development template, so requests will be pulled from that template to start your workflow.
Tasks can be set with statuses such as Strategy, Copy, and Design, which give digital media managers a simple visualization of where each project stands.
Step 2: Build your social media content calendars
The social media management template includes calendars that make viewing planned, active, or past social media content easy.
Digital media managers can view content by client or channel to better understand the status of each project.
Step 3: Import external vendor contracts
Managing external vendor contracts with the social media management template is a breeze. Set up the contract dashboard to manage the stages of each of your contracts.
Contracts can be categorized as Requested, Legal or Client Review, or Completed, so social media managers know what contracts need their attention.
Make Wrike work for you
Want to dig deeper? Wrike's versatile work management software has a range of powerful tools to help you take campaigns from start to finish. Our customizable features include:
Wrike can be tailored to suit any project, team, or organization. Personalize your action plans and design your workspace to match your team's processes. Our platform is built to work your way — not the other way around.
Resources for marketing agencies
See the big picture with Wrike
The social media management strategy template is a helpful tool for digital marketing agencies to gain insight into social media campaigns, manage external vendor contracts, and view campaign statuses with automated reports.
Yes, you can use the social media management plan template to see the status of multiple campaigns running across a range of channels.
Wrike's social media management template includes a host of features to get you started, including pre-built workflows, sample folders, and two calendars.