Today thousands of diverse organizations, including dozens of Fortune 1000 companies, use
Wrike
to successfully manage their projects and tasks. The beauty of Wrike is that it scales up and down smoothly. In addition to dynamic start-ups that are using the software on the go, there are
large enterprises managing thousands of projects
in the system. Today thousands of diverse organizations, including dozens of Fortune 1000 companies, use
Wrike
to successfully manage their projects and tasks. The beauty of Wrike is that it scales up and down smoothly. In addition to dynamic start-ups that are using the software on the go, there are
large enterprises managing thousands of projects
in the system.
Granted, sending out e-mails and
scheduling
team meetings every time you want a status report is outdated and unproductive in today's fast-paced environment. It gets exponentially more difficult for large teams that are spread across several cities or even continents. Those large and often distributed teams struggle on a daily basis with challenges, such as the need to coordinate the efforts of multiple teams, for all-around visibility and for granular control over corporate data security.
That is why we introduced a plan that delivers the solutions to all these needs –
Wrike Enterprise
.
Above and beyond your favorite Premium features, Wrike Enterprise brings Big Data into the picture, allowing you to instantly
get reports on work progress, along with actionable insights
.
The Performance Chart can help you estimate a realistic
project
completion date. The Current Status Chart makes it easy to spot the bottlenecks of your project and the tasks that require immediate action. The Baseline Chart comes in handy for identifying how far ahead of or behind the planned schedule you are. The Work Progress Chart helps you keep a finger on the week-to-week work results of each member of your team.
Here's a
quick overview of the new features
we brought to Wrike Enterprise:
Progress Reports as Actionable Infographics
We store about a million updates each day, and
successfully
parse all that historical data
to help you run your business more efficiently. "How is our progress looking, compared to the original plan? When should we realistically expect to complete the project? Who completed the most tasks?" Answering these questions requires processing thousands of work
activity
records. Wrike does it in a blink of an eye for you.
The new reporting engine
gives out valuable business insights
on employee performance, realistic completion dates, critical areas that need a manager's attention, baseline comparisons, and more -- all in the easily digestible format of
infographics
. This helps managers spot project bottlenecks instantly and provides stakeholders with highly visual performance updates. Our philosophy has always been "make complex things simple." That's why you don't need to spend time configuring these beautiful reports. They are already pre-configured in Wrike Enterprise, for any project you run.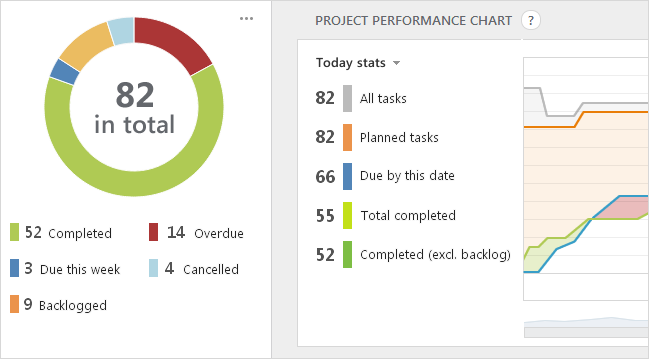 Sharing Made Easy via User Groups
If you needed to share a project with five people, you'd probably pick them from a list one-by-one. But what if you need to share a folder with 50 or 500 colleagues? To save time, Wrike Enterprise allows you to
organize users into a hierarchical directory with
user groups
.  You can include employees in multiple work groups by project, department, or any other ad hoc basis, and then share the needed data with the whole group in one click.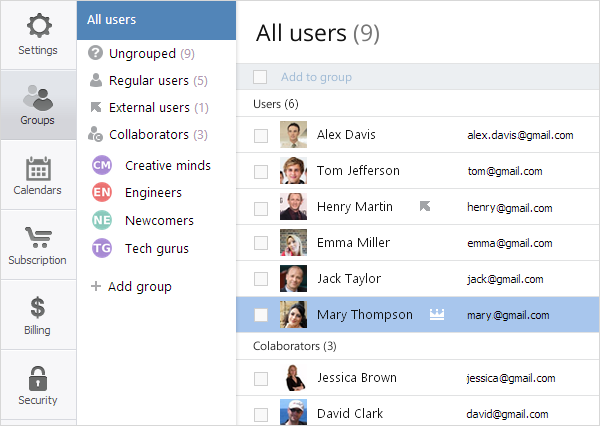 All Schedules Visible on Custom Calendars
Managing a larger team means keeping track of a lot of variables when creating a
project schedule
.  With the help of the
custom calendar
, you can keep track of your colleagues' vacations, PTO and extra working days, allowing you to avoid schedule overlaps and build more accurate plans.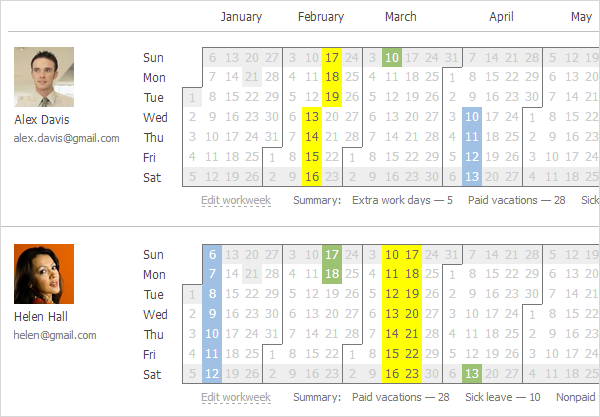 Corporate Identity in E-mail Notifications
When it comes to your corporate identity, consistency matters. That's why you can now add your company logo, or any other brand image you see fit, to all work updates sent to your employees from Wrike.
Branded e-mail notifications
now round out your corporate communications.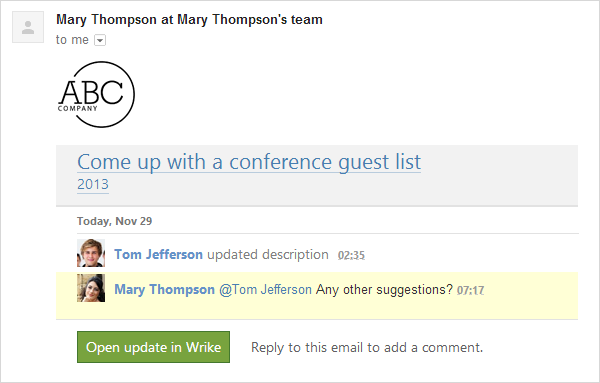 More Data Security with Extended IT Controls
Responding to the needs of our customers with 1,000+ seat deployments, we
empowered IT with extended security controls
. In Wrike, everything works out of the box the day you start your trial, but when you need more controls, the Enterprise plan gives your IT team options to configure which e-mail domains and app integrations employees can access.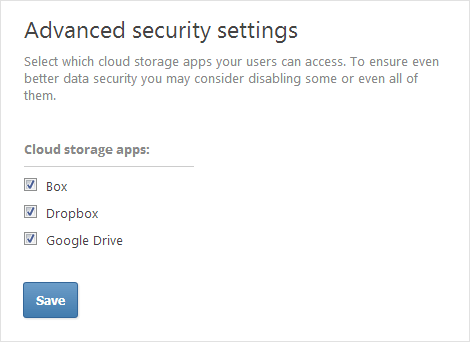 Advanced Permissions
Exciting news to share: a long-awaited feature -
read-only permissions per folder
- is already on its way! We will gradually roll it out in the next couple of weeks. This feature allows Wrike Enterprise customers to select read-only access when they are sharing projects.
Here's a little video to
show in action how Wrike Enterprise can give you valuable insight
into the work progress, increase your business velocity and help you coordinate your teams more efficiently.  
Want to get started with Wrike Enterprise? Drop us a note at
sales@team.wrike.com
!