If you have just started using Wrike, at first some employees may forget to log and update their tasks in the system. Don't worry, 
Andatech
's best practices will help you deal with this problem quickly!If you have just started using Wrike, at first some employees may forget to log and update their tasks in the system. Don't worry,
Andatech
's best practices will help you deal with this problem quickly!
Andatech is one of our customers, and it
wholesales a vast variety of innovative electronic products
for home in Australia. There are several teams within the company that are working on completely different projects, and the same
employees take part in several projects at once
. Prior to Wrike, the general manager spent several hours every week on collecting updates across different projects and putting them together into a general overview.
Now, every team member keeps their tasks up-to-date in the system
,
so it's a matter of a click or two to see how things are going. This approach is
beneficial for both managers and the team
, as everyone is on the same page and is moving faster. We've asked Andatech's team to share how they managed to make logging tasks into Wrike a habit so quickly!  
Leverage e-mail integration
Andatech managers wanted an easy way to track all work that has been done, especially by remote team members. So the first thing Andatech did was to create a simple rule:
Any task that takes more than half an hour should be logged into Wrike
.
Making this happen was easy. A lot of the team's communication takes place via e-mail, so logging new tasks from e-mails into Wrike is literally a matter of a click, thanks to Wrike's
Gmail
gadget
.
"Most
project management tools
are hard to adopt right away because people think that it's actually more work for them. But with Wrike, the biggest thing for our staff was understanding that
it's not just a separate platform
. It naturally supplements other habitual tools, such as e-mail, easily converting e-mails into tasks," says Sunil Joseph, the head of digital strategy at Andatech.
If your team is used to communicating issues via e-mail, make sure everyone on your team knows
the fastest way for them to turn e-mails into Wrike tasks
. This means the add-ins for
Outlook
and
Apple Mail
users, the
gadget
for Gmail users and simply forwarding an e-mail to
wrike@wrike.com
for anyone else.  
Update tasks in Wrike after everyday standup meetings
When tasks are logged into the system, at first people may still forget to update them. So Andatech managers decided to update tasks right after the everyday standup meetings.
They
created a folder called "Morning standup,"
where the
project
manager puts tasks that need to be done today and prioritizes them after each meeting.
After the meeting, team members also check that all updates they have reported during the meeting have been logged into the system. If they have previously forgotten to log something, it's high time to put it into Wrike, making sure the project picture is complete. This approach makes it easier to collaborate with remote team members, as the manager can quickly show them
today's agenda and the team's priorities
. The manager also sees the overall team's progress in one place and can quickly measure the progress for any given period with the help of Wrike's
advanced filters
.  
Suggest that employees create personal folders for the most important tasks
Quick access to all current tasks is vital
to set the priorities correctly and get things done in time. That's why every Andatech employee has a special widget on the Wrike dashboard with all tasks assigned to them (by default, you only have tasks assigned to you for this week). The widget automatically shows the up-to-date list of tasks with every login.
If you want to create such a widget for yourself, all you need to do is go to "My folders," click on the Descendants button, filter tasks assigned to you and click on the "Create a widget" button. This is a good exercise for all team members! :) The widget automatically shows
the up-to-date list of tasks
with every login.
Sometimes there are too many tasks assigned to one person, so it's hard to quickly grasp the ones to focus on. Andatech's employees have come up with a solution! Some of them created the personal "Most important" folder (not shared with anyone else) and put the most
important tasks from different projects
there. This is easy to do, thanks to the ability to
put one task in several folders
in Wrike. Within personal folders, people can drag tasks up and down the list to prioritize, and then complete items on the priority list from top to bottom.
Following these three easy principles, Andatech's team adopted Wrike quickly and smoothly! In turn, Wrike helped them greatly with
tracking work progress
, prioritizing things and figuring out what needs to be done and when.
Learn more about how the Andatech's team successfully uses Wrike for their workflow in our podcast with Sunil Joseph.
What are your team's best practices in making task-tracking a habit? Do you have any particular rules in using Wrike and tracking the progress?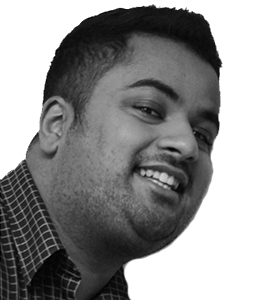 With Wrike, it gets easier to share and collaborate on any kind of data. We're sure that the relevant people will see what needs to be seen, and things will get done in time." — Sunil Joseph, the head of digital strategy at
Andatech
.