Work Requests Template
Centralize, prioritize, and manage your requests with ease using Wrike's work request form template.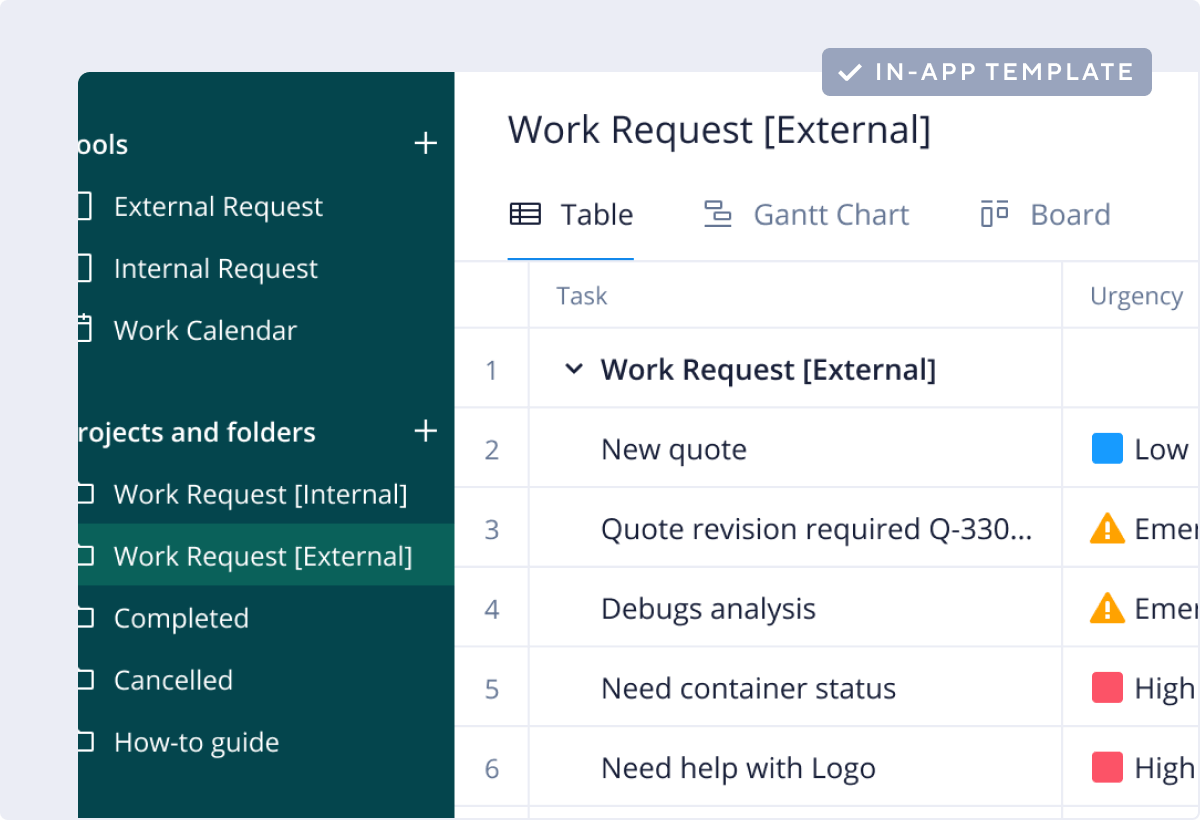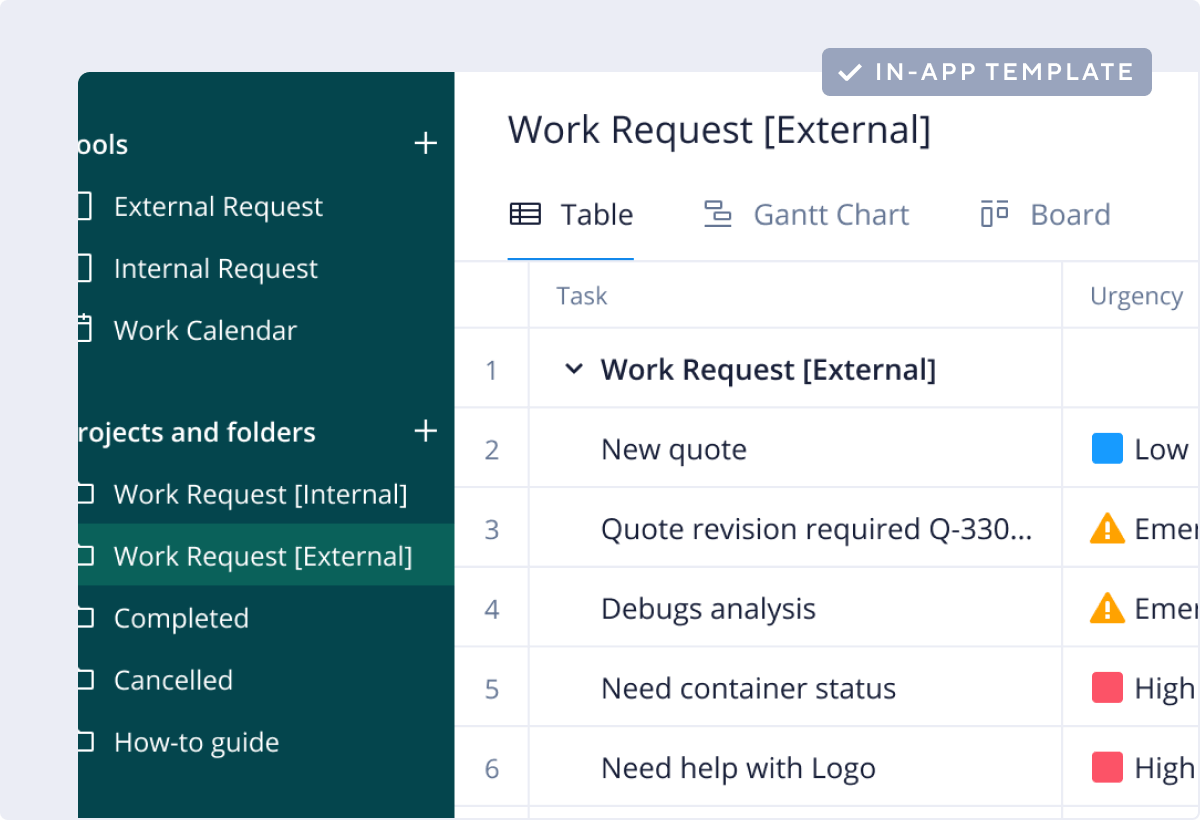 #work requests template
#work request form template
Simplify your work request process
Many of us juggle multiple work requests every day. They keep teams busy and stakeholders satisfied, but if they're not managed well, they can quickly become overwhelming.
Wrike can minimize this stress by helping you organize your work request flow. You should consider using a work request template if your team struggles with:
Tracking incoming requests
Gathering important details
Prioritizing key tasks
Eliminate these challenges with Wrike's easy-to-use work requests template.
Store workload requests securely, keeping your email inbox clutter-free
Collect key details upfront by ensuring all relevant data is included before requests are submitted
Categorize requests and prioritize them according to their importance and final due date
Why you need the work requests template
Streamlined requests

Wrike's work request form template collates multiple requests into a central hub, making it easier to view, understand, assign, and manage each task.
Clearer information
The work requests template can be customized to ensure all key details are included, helping you gauge task requirements and allocate staff resources accordingly.
Better organization

The work request form template from Wrike is fully customizable, so you can label requests by category, priority, and assignee.
Never miss a deadline again
How to use the work requests template in Wrike
Take charge of your work request process today. Wrike's work request form template and how-to guide has everything you need to hit the ground running.
Let's get started with some of the great work management features you'll be using.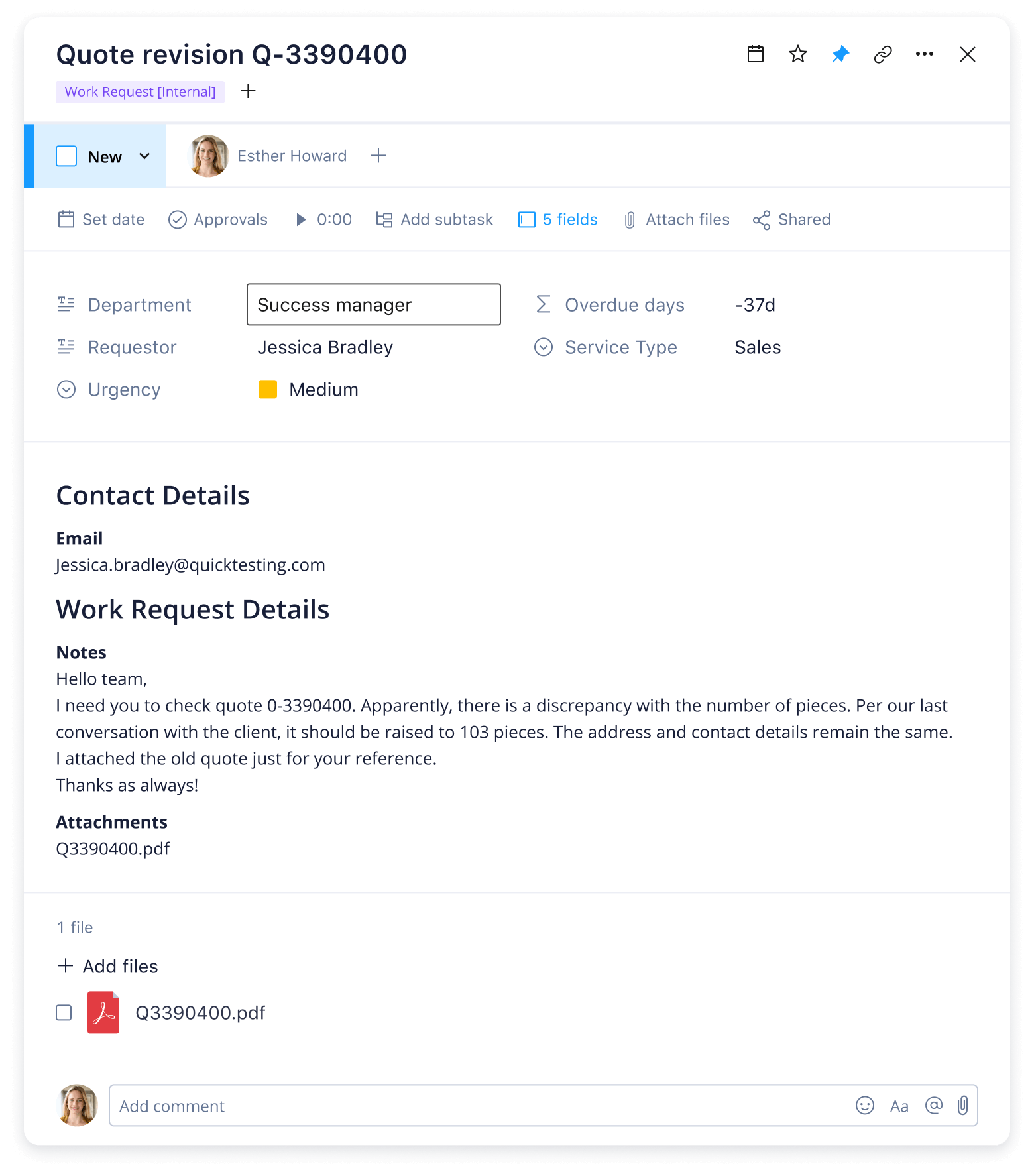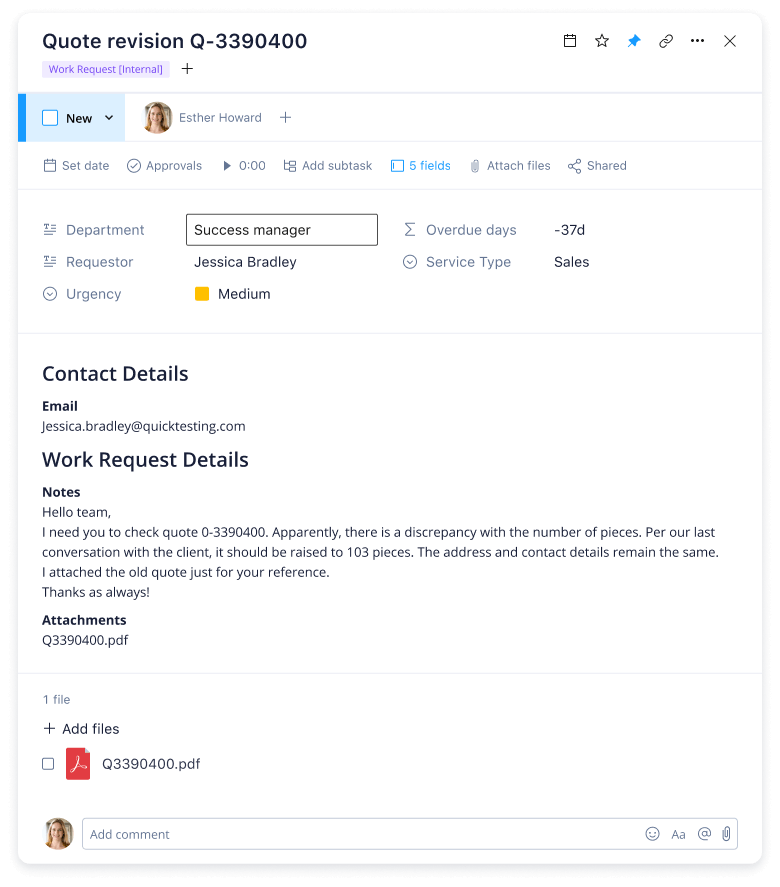 The work requests template will help your team stay on top of a busy schedule by sorting, streamlining, and storing work requests. Interested in seeing how it works? Just follow these three simple steps in your Wrike workspace.
Step 1: Organize your work requests
The first step is to enter your Wrike homepage, and click "Create Work Request." This will open up a folder with a number of subfolders, including Work Request Internal (for colleagues), Work Request External (used by customers or clients), and a handy how-to guide.
Work requests are organized in the folders according to details, urgency, assignee, progress status, and more.
Step 2: Create a custom request form
Click the green "+" sign to create a request. That'll bring you to a page offering two options: Work Request [External] and Work Request [Internal]. Both are designed to collect key information, including name, request type, urgency, and attachments.
You can also add custom fields to this request form to better reflect your own organization's needs and priorities.
Step 3: Visualize your work request flow
Work requests can be visualized in a list format where overdue dates turn from green to red. You can also use a dashboard or a calendar to help you see upcoming or urgent deadlines at a glance.
Drag and drop requests to different dates, and color-code them to reflect their originators or assignees.
Make Wrike work for you
Wrike provides more than just time-saving templates and expertly designed resources.
Our powerful work management platform offers a range of cutting-edge features that can help you transform your work request process, reduce the risk of overwhelm, and visualize available resources.
Wrike's dynamic software can be customized to suit your team's specific needs, helping to smooth collaboration, avoid repetition, and deliver better services, faster than ever.
Keep your workflow running smoothly
This template speeds up your work intake process, providing complete control over prioritizing, managing, and tracking work requests.
Yes, if you're an existing Wrike Business, Wrike Enterprise, or Wrike Pinnacle customer, the work request form template is completely free to use.
Access this template immediately by entering your business email. Not a Wrike user yet? No problem, get started with a free two-week trial today.