Wrike Demonstrates Continued Leadership In AI With Expanded Work Intelligence™ Solution

Modern and Intelligent Platform, Wrike Lightspeed, Delivers AI and UX Enhancements to Address Today's Business Challenges
SAN DIEGO, Calif., April 26, 2023 - Wrike, a powerful work management platform and pioneer in Artificial Intelligence (AI) for the collaborative work management industry, today announced a planned expansion of its Work Intelligence™ solution that includes new advancements in AI. Since 2017, Wrike has invested in leveraging AI, ML, and automation to develop intelligent capabilities that automate work so teams are free to be more creative, productive, and outcomes-oriented. Wrike was first-to-market with smart AI-powered features designed for any work environment, including desktop, browser, and mobile, and Wrike's work graph, which leverages data from millions of projects, is the backbone of their predictive and adaptive AI technologies. Wrike is now evolving to include new breakthroughs like generative AI, and it couldn't be better timed.
"Conversations happening in the boardroom and among business decision makers are focused on operational efficiency, and the impact of those discussions is felt across the organization," says Andrew Filev, Founder and CEO of Wrike. "Naturally, we're looking to advancements in AI, machine learning, and automation to contribute to improved efficiency. What we're seeing now is hockey stick growth in the pace of adoption. Just last year, we found that 86% of enterprises are planning to invest in AI. We're fortunate to not only have a head start in the great AI race but a clear vision for the future of Wrike AI. Intelligent work management is already here."
Wrike's Work Intelligence solution is comprised of industry-first features, such as AI Recommended Tasks, AI Project Risk Prediction, AI Subitem Creation, AI Workspace Search, mobile voice command, and document scanning and text recognition. In 2023, Wrike plans to expand this feature set and further cement its leadership with the launch of additional intelligent features, starting with description summarization, text generation, and text editing powered by AI. Customers will be able to easily manipulate text with the click of a button, summarizing long bodies of copy, correcting mistakes, translating text, generating a reply, and more. These features automate otherwise tedious tasks and present information in digestible ways for quick context. Customers can expect access to these new capabilities as early as Q2.
Wrike has also announced an annual product roadmap for AI innovations aimed at delivering the future state of intelligent work management. Planned updates include:
Generative AI:

Taking advantage of the latest AI breakthroughs for boosting productivity, Wrike will generate digest summaries across work items to surface the most important information for users to focus on.
Intelligent Search:

Using natural language support, Wrike will quickly search and find items, assets, tools, help articles, templates, and more in a way that users are familiar with, similar to their favorite search engines.
Work Assistant:

Introducing a

personalized educational wizard to the platform will allow users to get instant access to relevant information and solutions for a problem at hand.

Smart Suggestions:

By detecting patterns in user actions, Wrike will proactively make helpful suggestions, such as automating repeatable items, starting an approval, and adding actionable subitems.
"For the past six years, Wrike has prioritized AI upgrades that create an intuitive user experience and increase productivity and efficiency," says Alexey Korotich, VP of Product at Wrike. "We are excited to expand our existing offerings to meet new and expected demand, which is evident in the growth we've seen in intelligent feature usage on our platform. We are committed to working closely with our customers to build on valuable AI features that will enable them to deliver results faster."
In the last year, Wrike has seen a surge of 6,225% in AI Subitem Creation on its platform, as customers are increasingly turning to the power of AI to create tasks and actionable items from text. The platform has also seen consistent quarter-over-quarter growth in project risk prediction usage and AI-recommended tasks as customers continue to take advantage of automation to prioritize their work.
"Wrike has developed a suite of AI features that make day-to-day tasks less time consuming and much easier," says Sherrie Besecker, Creative Technology Manager at Syneos Health. "I use task prioritization to understand where I need to focus my efforts, and even the smaller, more subtle automation features like smart search, as well as smart assignee and mention selectors, have a huge impact because they immediately generate the results I need. By reducing the amount of time I spend on the minute details, I'm freed up to focus on high value work that supports our business objectives at Syneos Health."
Wrike's new AI capabilities will enable organizations to continue to improve team and cross-functional workflows and streamline projects and tasks, while providing tailored solutions to tackle today's business challenges. In addition to building on its AI feature set, Wrike has delivered significant user interface improvements to its Wrike Lightspeed platform, including a reimagined look and feel with a new workspace offering streamlined navigation, and multiple new views to improve alignment across teams, including new Table, Board, Gantt, Calendar, Work Item, and Analytics views. With more capabilities to increase visibility, productivity, and efficiency, Wrike continues to provide the most modern and intelligent platform for work management.
Learn more about Wrike's Work Intelligence features, and sign up for a free trial of Wrike's current AI feature set here: https://www.wrike.com/features/work-intelligence/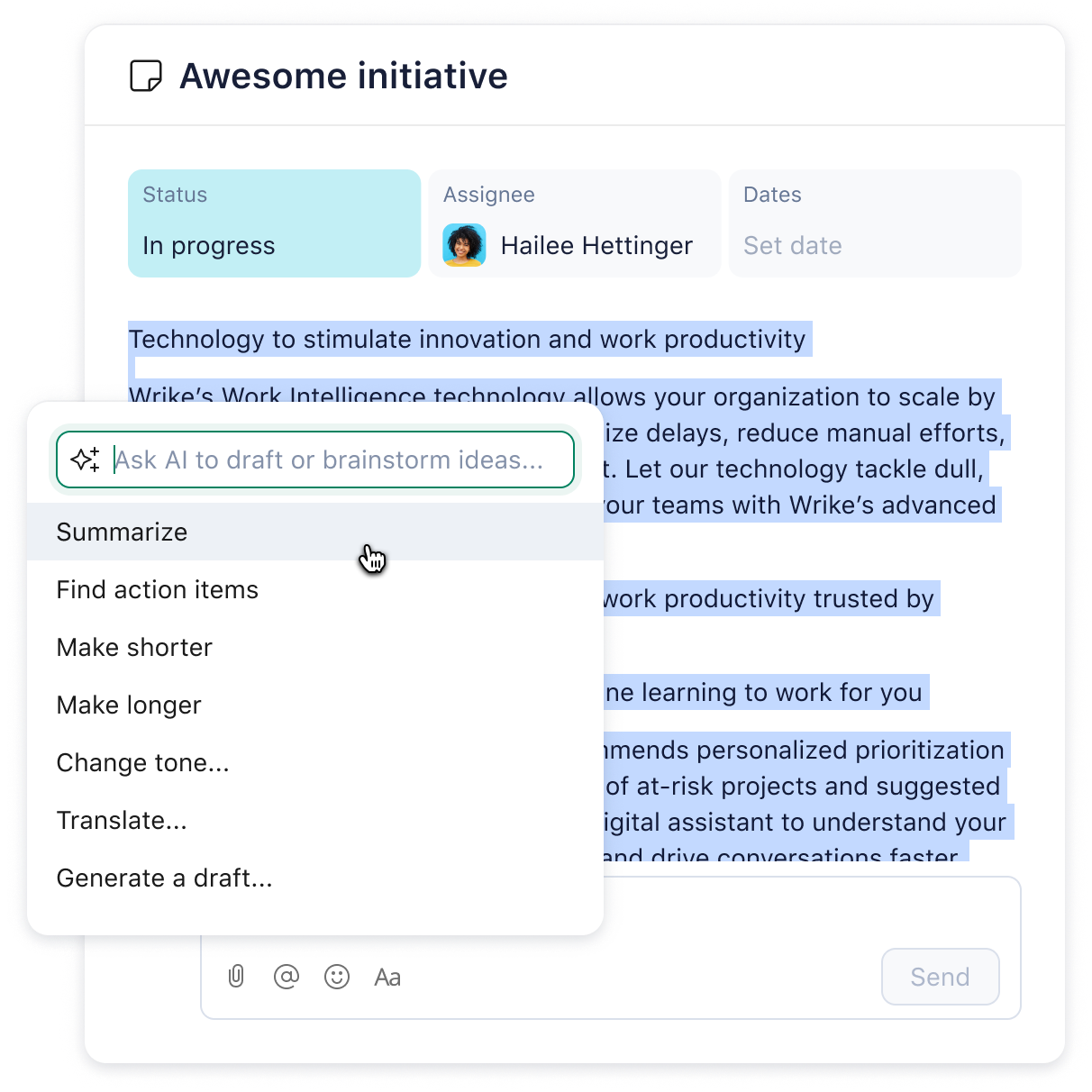 About Wrike
Wrike is the most powerful work management platform. Built for teams and organizations looking to collaborate, create, and exceed every day, Wrike brings everyone and all work into a single place to remove complexity, increase productivity, and free people up to focus on their most purposeful work. With unmatched power, versatility, and intuitiveness, Wrike is the only work management solution an organization will ever need to scale, optimize, and move fast in a competitive world. More than 20,000 happy customers power their future and come together in Wrike, including The Estée Lauder Companies, Hootsuite, Nielsen, Ogilvy, Siemens, and Tiffany & Co. Wrike is headquartered in San Diego, CA. For more information, visit www.wrike.com.