The age of remote work has brought a number of realizations. We now know that with the right work management solution, we can work effectively from anywhere. We understand that great work doesn't have to be done in the hours between 9 to 5. Above all, we appreciate the value of digital collaboration more than ever.
The challenge of modern collaboration
At one time, busy offices and hectic workplaces might have disguised poor communication and siloed teams, but now the cost of ineffective collaboration is clear. Wrike's ground-breaking Dark Matter of Work research proved this: Nearly 80% of knowledge workers surveyed said they work at cross-purposes with colleagues because they have been given tasks that contradict one another, understand instructions differently, or don't have access to the right information. This type of 'dark matter' or invisible work costs businesses up to $60M annually.
As Forbes recently pointed out, effective collaboration across teams, offices, and regions is often the difference between success and failure for a business. This will only become more acute in an unpredictable economic environment, with additional pressure, scarce resources, and increasing employee burnout. In fact, the estimated $60M annual cost of invisible work is expected to increase by 53% in the next five years.
The solution is Wrike Lightspeed
As the world's most powerful work management platform, Wrike has been a pioneer in digital collaboration since 2006. It has constantly iterated to improve users' interactions with each other, introducing ever-more impressive collaboration features. In October 2022, Wrike launched Wrike Lightspeed, its most exciting innovation yet.
With a universal work management process that covers the A-Z of modern work, Wrike Lightspeed has all the features any team, department, or organization could need. It's more customizable, scalable, and easy to use than any other solution, offering a fast, easy onboarding experience for new users, as well as complex, configurable features for fast-growing companies. With more than 400 integrations with popular tools like Google, Slack, Salesforce, and Adobe Creative Cloud, Wrike Lightspeed is the all-in-one work management platform you've been looking for.
The perfect combination of speed, technical proficiency, and style, Wrike Lightspeed delivers an exceptional new user experience. Our designers have breathed new life into the interface with fresh-looking Table, Board, and Calendar views and a fully revamped Analytics dashboard that makes seeing work progress fun and informative. Our intuitive navigation makes it easy to get to the features you need, including our best-in-class Gantt charts, Kanban boards, and library of ready-to-go templates. It's packed with collaboration tools for remote teams, as well as those based in offices all around the world.
Every Wrike Lightspeed feature and integration is designed with the customer in mind. It strips away work complexity, surfaces essential tasks, and facilitates unparalleled digital collaboration.
Wrike Lightspeed powers:
50% faster project delivery: By providing a single source of truth, Wrike offers complete visibility into any project journey, including any potential roadblocks, resourcing issues, and workload imbalances. Teams can see project progression at a glance in multiple views. This means fewer delays, fewer budget overruns, and much, much faster delivery.
70% fewer meetings: Is your weekly calendar filled with time-consuming meetings? Well, with Wrike, every meeting, email, and message can be converted into instant communication in one shared space. Update tasks in real time, tag colleagues across functions, and spend your time on the work that really matters.
90% less email: Email is a great tool and a fantastic way to talk to external stakeholders. But as the threads grow, so too does the time spent writing, responding, and searching for details you need. All this 'dark matter of work' has a real cost, estimated to amount to $93m a year by 2027. This is where Wrike can help, offering one secure place for all your conversations, which means far fewer emails and much more alignment.
Lightspeed offers the fastest way to productivity by helping teams, departments, and whole companies Work as One™. It's also the only remote collaboration software that doesn't require customers to make tradeoffs — you can interact, communicate, and collaborate seamlessly with internal colleagues and external partners alike.
Introducing External Requester Collaboration
Advancing digital collaboration has been Wrike's primary goal for more than 16 years. We've always acknowledged the need to collaborate with other teams outside the work environment and keep all work-related data together. We've also long understood that this means more than being able to message a colleague or work on a document together, which is why we introduced reviews and approvals for guest users. This proved a game-changer for service teams of all types, who were able to bring every external stakeholder into the Wrike fold. Since then, we've continued to develop our collaboration capabilities, helping keep people connected in the most effective way.
With the launch of Wrike Lightspeed comes our most innovative feature yet — the new External Requester Collaboration. Now, Wrike and non-Wrike users can communicate, collaborate, and create — all in one place.
That means toggling between Wrike and third-party email accounts becomes a thing of the past, as the entire request journey can be managed within Wrike. Communication can be displayed as 'internal comments' and 'email to requester' so the different paths are clear to all users.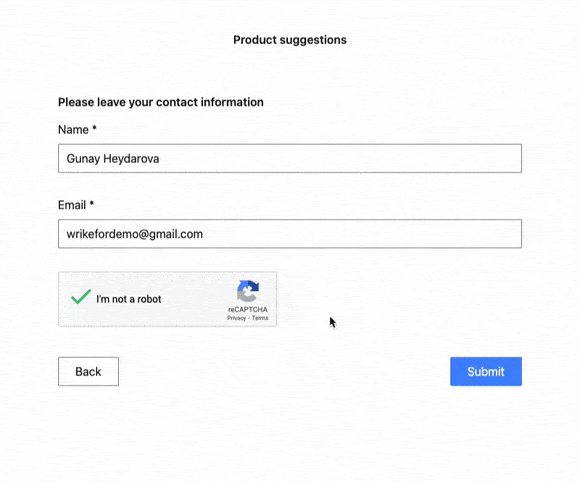 All of this will be great news for our customers, especially service providers who interact with external clients as well as internal stakeholders. This new feature empowers those teams to deliver effective service management, allowing them to continue to do their best work in Wrike's platform while also communicating smoothly outside of it.
For example, many IT service teams field multiple requests from people outside of their company, including many who aren't in Wrike. Those requesters will often need to provide more information, such as a screenshot, photograph, or attachment. Similarly, the provider will usually respond seeking extra information or providing a status update. All of these daily back-and-forths can now occur and be tracked in Wrike, offering a seamless experience for both parties and a single source of truth for future reference.
This exceptional collaboration feature will also allow advertising agencies and marketing teams to maintain end-to-end digital collaboration on asset creation, proofing, and publication with temporary freelancers, partner agencies, creative contributors, and many more. No need to download assets into client-friendly PDFs or email approvers separately — now you can just invite them into Wrike, where the task, assets, campaigns, and discussions are happening. Permissions can be adjusted to give them visibility where needed while sensitive information is safeguarded.
How External Requester Collaboration works
Available for all Wrike customers on Team and higher Wrike plans, External Requester Collaboration is a native email integration feature that allows Wrike users to communicate with people outside of Wrike. You can do this by receiving and sending emails directly from Wrike tasks to external email addresses. This way, you can collaborate on tasks with external colleagues and partners without adding them to your Wrike account and avoid switching to email to provide updates or request approvals.
It also means that all of your questions, responses, comments, and assets are stored securely within the task, so it's easy to refer to them in the future when following up on a query or planning a similar project. This promotes a more structured work intake, reducing back-and-forth email communication, fostering much faster response times and preventing you from toggling between tools.
To start using this great collaboration feature, you just have to follow three simple steps:
Set your external request forms to allow email communication
Create a task from this request form
Click 'internal comment' or 'email to requester'
You will now be able to communicate with external request collaborators via email and vice versa.
Making collaboration truly possible
Wrike Lightspeed is revolutionizing collaboration. It's a big-picture platform that connects teams, departments, and companies — as well as every type of colleague, client, and customer outside of the organization. By opening up digital collaboration to include external stakeholders, Wrike Lightspeed will put you far ahead of the competition. While they're still waiting on clients to download a PDF, your client could be commenting on the asset directly in the task.
This remarkable configurability, usability, and scalability can be applied across a customer's entire work management process, enabling teams to work together as one. This is what makes Wrike Lightspeed the most powerful solution on the market for every team, every business — and every external user, too.
Ready to send your team on the path to smooth collaboration and unparalleled productivity? Start a free trial of Wrike today.