"Gentlemen, we can rebuild him. We have the technology. We have the capability to make the world's first bionic man. Steve Austin will be that man. Better than he was before. Better...stronger...faster." ~ Oscar Goldman, from The Six Million Dollar Man
For years now, Wrike customers have used our Microsoft Outlook add-in to more effectively manage work originating from email. It served its purpose well, but as the add-in had begun to show its age, and with new technology available for add-ins from Microsoft, we knew it was time to make it better, stronger, faster.
And today we're excited to announce that, after rebuilding it from scratch, our all-new add-in is now available for you on Windows, Mac, web, iOS, and Android, to fully leverage the power of Wrike without needing to leave Outlook.
Email Matters in Workflow
Work can originate from various sources: directly from clients, through management, even out of casual conversations. And, as you're likely very familiar with, one of the most common can be by way of email.
Even as business chat grows in popularity, email remains and likely will continue to be a significant communications channel, especially with external stakeholders. And, because of this, working in business tools like Microsoft Outlook can be important in workflow.
However, with the freeform nature of email conversations, work coming from email can be in need of structure.
Transforming Conversations Into Structured Work
Here at Wrike we're committed to giving you greater visibility into work and making your teams more productive, including enhancing workflows that rely on other critical business tools.
Recently we launched our integration with Microsoft Teams, which, along with our new Outlook add-in, both enable you to turn freeform conversations into structured work, but at different points in your Microsoft Office 365 workflow.
Bringing the Power of Wrike into Outlook
With our new add-in, Outlook users can easily add emails to Wrike, where work can then be more effectively managed, tracked, and reported on. And because users can also manage that work directly in the add-in, as well as leverage our recently released support for actionable messages in Outlook, teams can get even more out of Wrike right within Outlook.
What You Can Do with Wrike for Outlook
Create new tasks from emails. With just a few clicks, you can easily add an email in Outlook as a task in Wrike. The task will appear in the add-in panel, where you can add it to existing Wrike Projects or Folders, assign it to someone on your team, set a due date, and add to the description.
View and edit tasks. When you want to access a task again in Outlook, all you have to do is return to that email and open the Wrike add-in. Also, if you're receiving Wrike email notifications, you can access the task referred to in a notification in the same way. And as with our Teams integration, tasks in Outlook look like they do in Wrike, so you can see rich text formatting, images, subtasks, and attachments, as well as make changes to other properties like task status.
Send and receive Wrike comments. Avoid complicated email threads by instead collaborating on work using Wrike task comments right in Outlook. You can @mention members of your team on tasks, and they can reply immediately, either also from Outlook, in Microsoft Teams, or directly from the Wrike interface.
Add emails as comments to tasks. This was a big request for our old add-in: by adding emails as Wrike task comments you'll be able to capture all communications about work in a single place and ensure they're accessible by your entire team.
Multi-platform Support, Now Including Android
A restriction with our old add-in was that it was only available for the Outlook desktop app on Windows. Now our new add-in works across Windows, Mac, web, iOS, and starting today, Outlook on Android.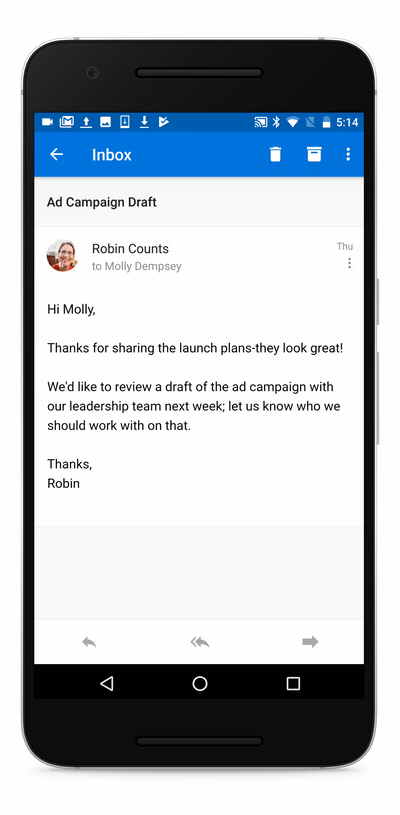 Install and start using Wrike for Outlook today!
Read more about Wrike for Outlook
Learn more in our Help Center
Check out our other Microsoft Office integrations to further empower your workflow: