Project Delivery Initiation Template
Create and execute a seamless project plan that targets your specific goals using Wrike's project delivery initiation template.
#project
#delivery
#initiation
Standardize your project delivery
From basic information such as project budget and service type to contract terms and an estimation calculator, our project delivery initiation template ensures delivery readiness and helps you to:
Clearly define standardized project intake information
Streamline the organizational processes necessary to take a project from sales to delivery
Track progress throughout the entire project delivery initiation phase
Why your team needs this template
Undefined project scope
Gain a clear understanding of the scope of your project. Make sure agreed timescales and expected results are met without overloading your team or going over budget. Identify key deliverables and milestones from the outset, so your team knows what to expect each step of the way.
Disorganized resources
Collect project budget information during the project intake phase and assign resources accordingly using our project delivery initiation template. Use the estimation calculator linked within the template to ensure resource scoping aligns with project budget.
Unclear project goals
Absence of clear goals during project delivery initiation can result in the loss of both time and money. Identify which goals you hope to achieve with the help of Wrike's project delivery initiation template, and track the progress of these goals during project delivery.
Ensure project delivery readiness
How to use Wrike's project delivery initiation template
After you've downloaded and integrated the project delivery initiation template into your Wrike workspace, it's time to configure your template to your project delivery initiation standards and best practices.
This section will help you get started with the template by outlining how to: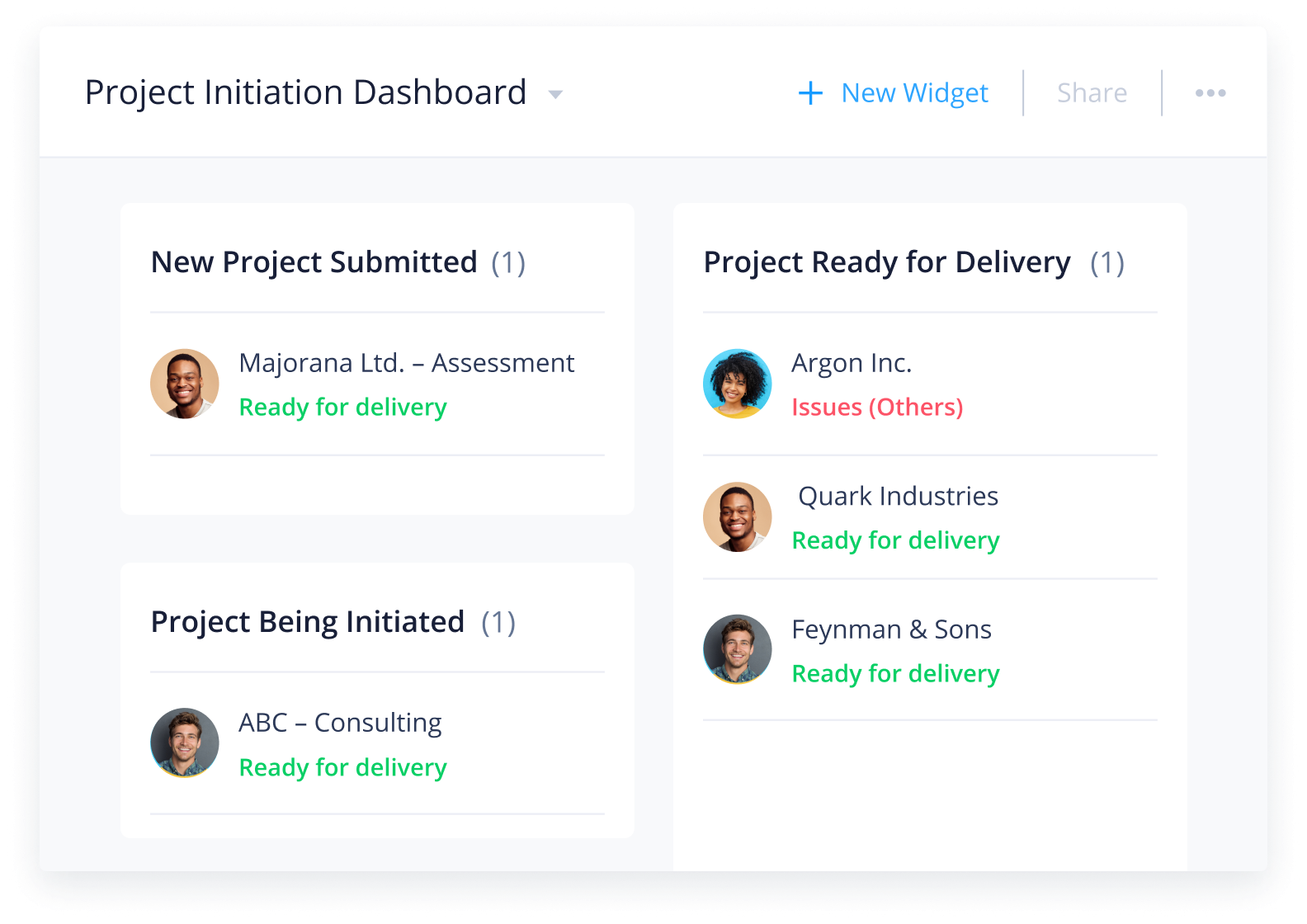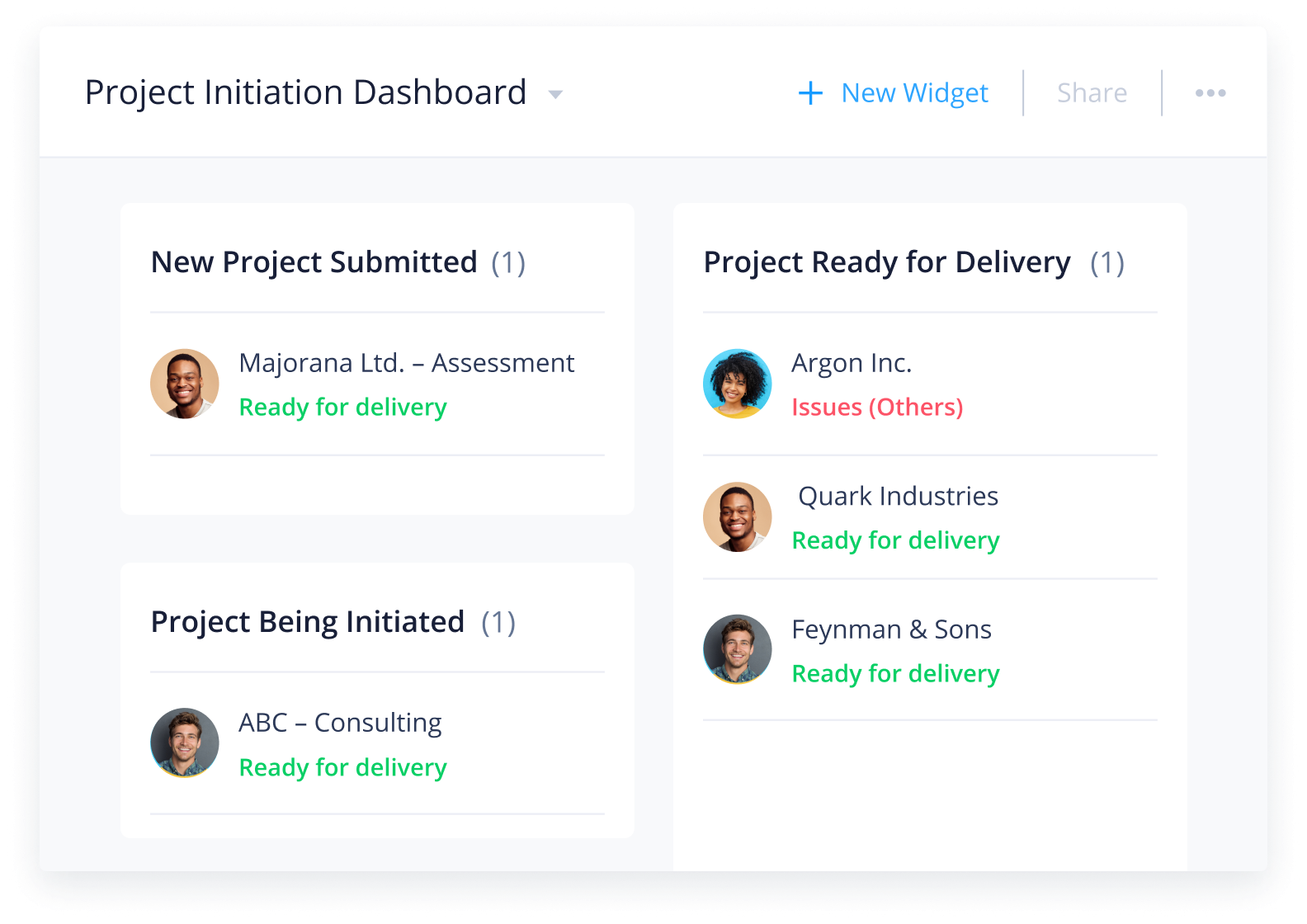 Step 1: Collect necessary data
Inside the template settings, you'll find the project delivery initiation request form template. The request form is pre-built with fields that request vital information for project kickoff, such as project name, customer name, project budget, links and attachments to documents (including SOWs, quotes, and MSAs), desired service type, and more.
Configure your request form's customizable fields to capture all of the data your team needs to begin working on a project.
Step 2: Outline all required steps before project delivery initiation
Once your request form is finalized, you can turn your attention to optimizing the custom workflow in the project delivery initiation template. Use the statuses built into our template, or create your own custom statuses to identify the various stages of your projects.
The project delivery initiation template includes a Wrike Space with three folders — New Project, Project in Initiation, and Templates — where you can organize projects and project delivery initiation document examples.
In the Templates folder, you'll find the Project Delivery Initiation Checklist. The checklist serves as your source of truth during project delivery initiation, outlining each step that must be completed before a project can begin.
Alter the steps in this checklist to match your internal processes, so each team member is clear on necessary pre-project steps.
Step 3: Track progress with reports and dashboards
Once the project delivery initiation process has begun, the dashboard within our project delivery initiation template will help you track projects and view which stage of project kickoff they're in.
The template dashboard allows you to view projects in the following stages:
New Project
Initiated
Issues (Other)
Issues (Resourcing)
Issues (Commercial)
Ready for Delivery
On Hold
Cancelled
Make Wrike work for you
A workplace that's tailored exactly to your individual needs is more attainable than you might think. Check out these Wrike features that give your teams the tools they need to do their best work.
Wrike is customizable and adjustable to meet the needs of any team that's using it. Try out the different features within Wrike to optimize your processes and workflow today.
Everything you need for project delivery initiation
A Wrike request form to initiate a new sold project into delivery, ensuring all relevant data is collected at the point of intake
A template and a custom workflow to ensure that all the necessary steps are carried out before kicking off the project and that status can be tracked throughout the initiation phase
Dashboards and reports to provide visibility into project status
Yes — the project delivery initiation template is customizable to fit your organization's unique IT security and compliance policy needs.
The template is free and users with access include those on Wrike Business, Wrike Enterprise, and Wrike Pinnacle.