The world of the enterprise marketer continues to intensify. From the continuous loop of campaign development to the constant drive for impactful content and experiences, the pressure is always on to deliver more, faster. With clients asking for increasingly innovative approaches and unexpected ways to break through, today's marketers are hard-pressed to keep up the pace and deliver creatively. It can be even more challenging when working remotely or with distributed teams. One of the best ways to stay competitive in this ever-changing environment is to have the right solutions supporting your entire team. That's where Wrike for Marketers and the new Wrike for Marketers Performance make all the difference.
Where collaboration and creativity come together
Wrike for Marketers combines the versatility of the Wrike collaborative work management platform with essential marketing functionality for creative review and asset management. From planning through publishing, Wrike for Marketers empowers teams, no matter where they're located. It's a powerful, flexible work environment that ensures efforts are aligned with the strategic priorities of each project and the organization overall. By unifying your team's priorities and processes, Wrike for Marketers helps you deliver stronger creative assets. And that translates into better business results for you and your clients.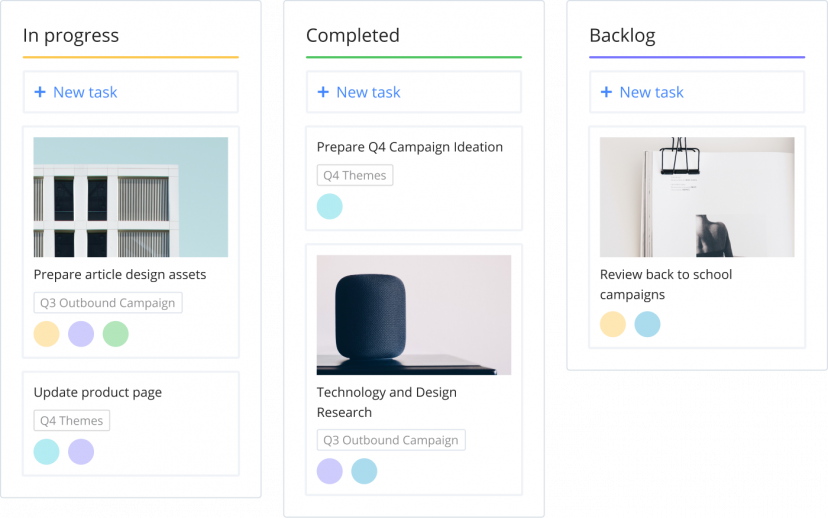 Expand analytics and integrations with the new Wrike for Marketers Performance
Wrike for Marketers Performance is ideal for marketers who want more data-driven, automated programs. It expands Wrike's core capabilities to deliver performance dashboards and enable automated processes that reduce repetitive marketing administration tasks. Combined with the 400+ available integrations with leading applications and tools such as Marketo, Adobe Creative Cloud, and Salesforce, Wrike is the ideal work management solution that drives end-to-end performance.
Ideal for Agile approaches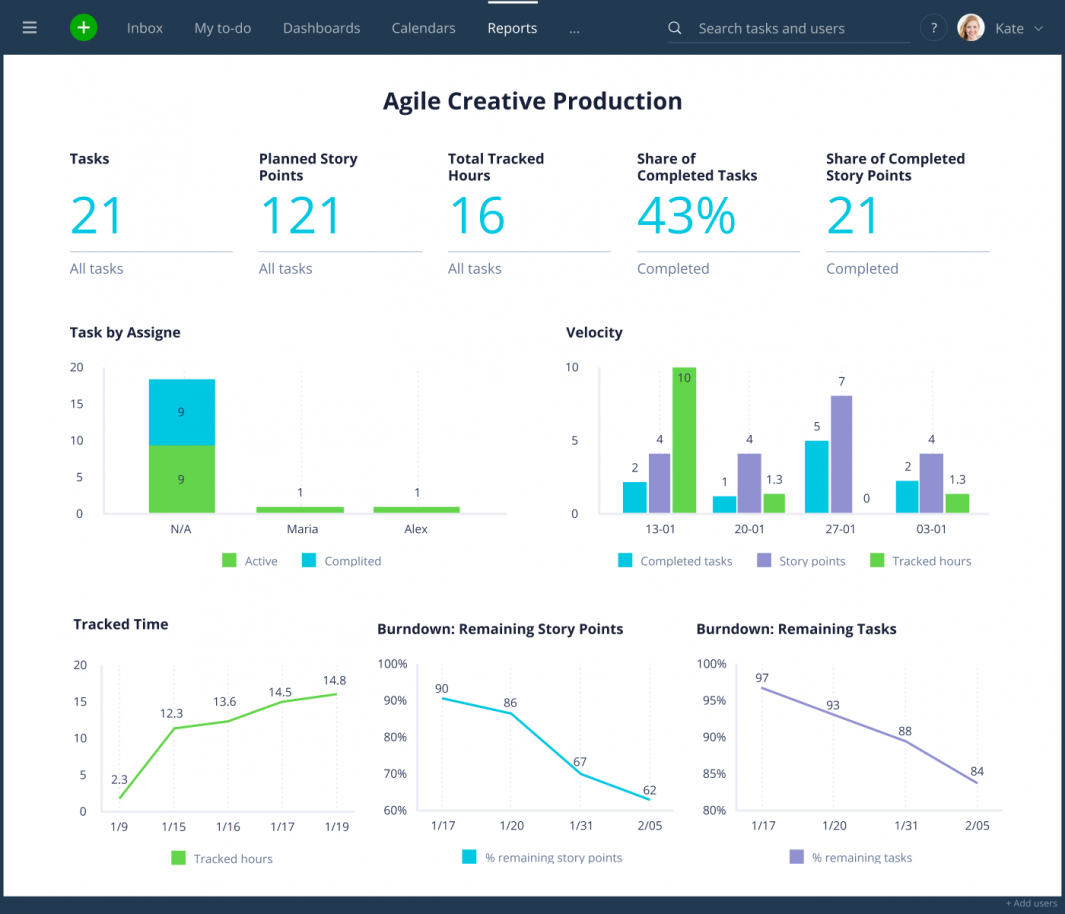 It's no secret that more marketing departments are shifting to Agile methodologies to keep up. While Agile used to be wholly the realm of developers, it's been adapted to manage the fire drills and short timelines of today's marketing realities. Wrike for Marketers Performance gives Agile teams the visibility, centralized platform, and key Scrum management tools that simplify sprint planning, execution, management, and reporting. Repetitive planning tasks can be easily automated from project to project. And Wrike delivers insight into team workloads to enable better resource management and reduce team frustration. Every team member knows what they're responsible for right from the start, thanks to customizable timeline views and structured workflow status. With Wrike, individuals, teams, and managers have the flexibility to get work done their way and the freedom to customize views and approaches to fit different needs.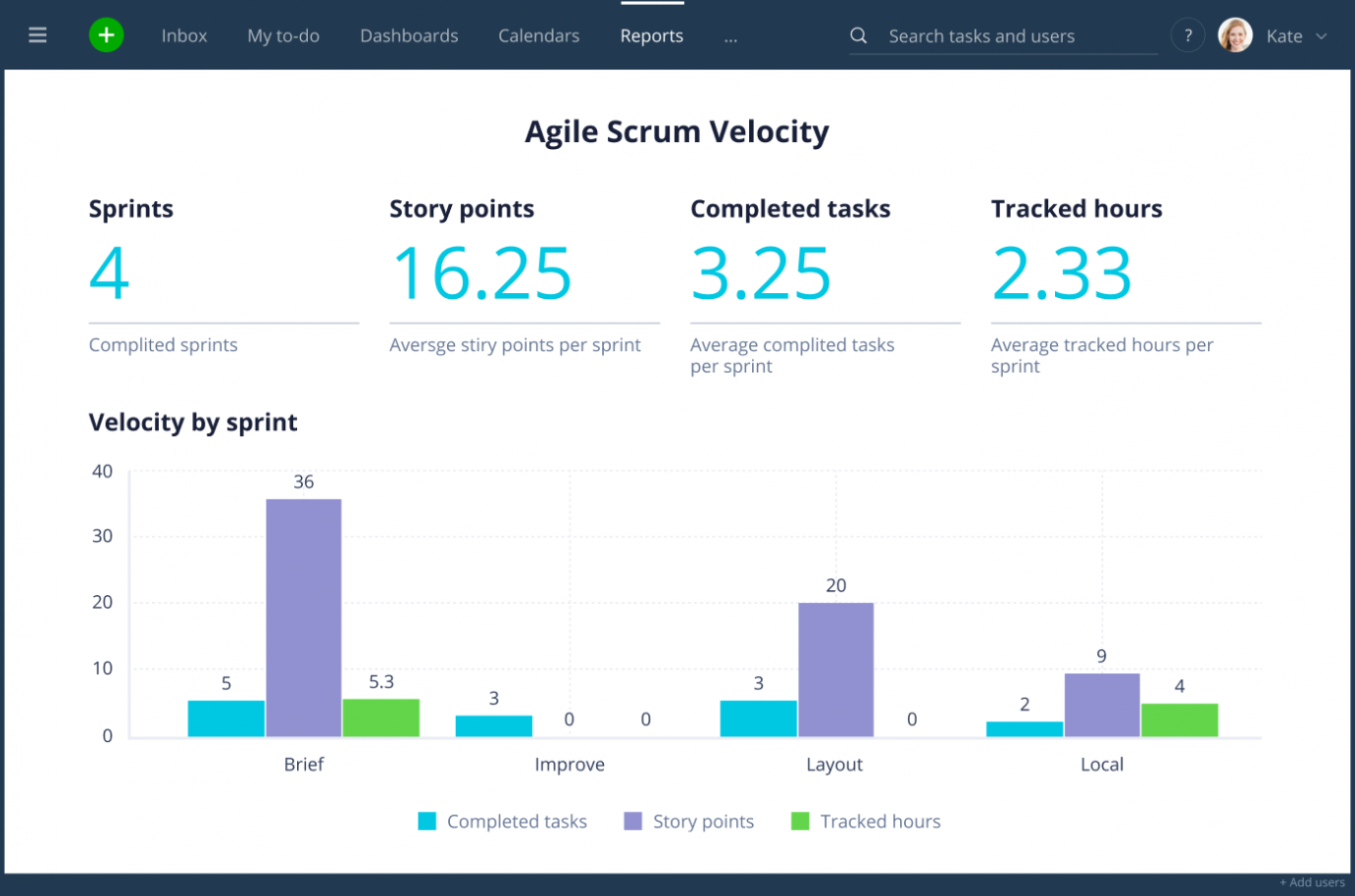 Core functionality that keeps campaigns on track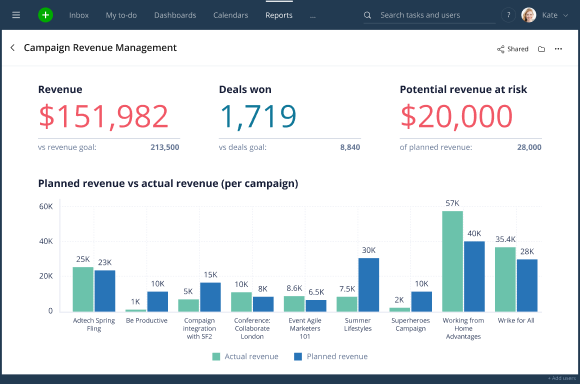 Wrike for Marketers Performance delivers the structured flexibility and analytical functionality that's required for successful campaign-centered approaches. Wrike facilitates efficient follow-through and continuous improvement. As with Agile environments, Wrike helps automate tasks and streamline setup for multiple campaigns running simultaneously. Integrations with tools like Marketo eliminate duplicate efforts to populate data and set up campaigns. And with color-coded project and task calendaring views, it's easy to get a full picture of organization-wide marketing efforts or focus in on individual campaigns. Plus, Wrike dashboards provide a quick view of campaign performance and key analytic tracking. It all combines into a solution that keeps your teams focused on real-world results and makes it easy to generate executive reporting to align with organizational KPIs.
Managing creative development without the chaos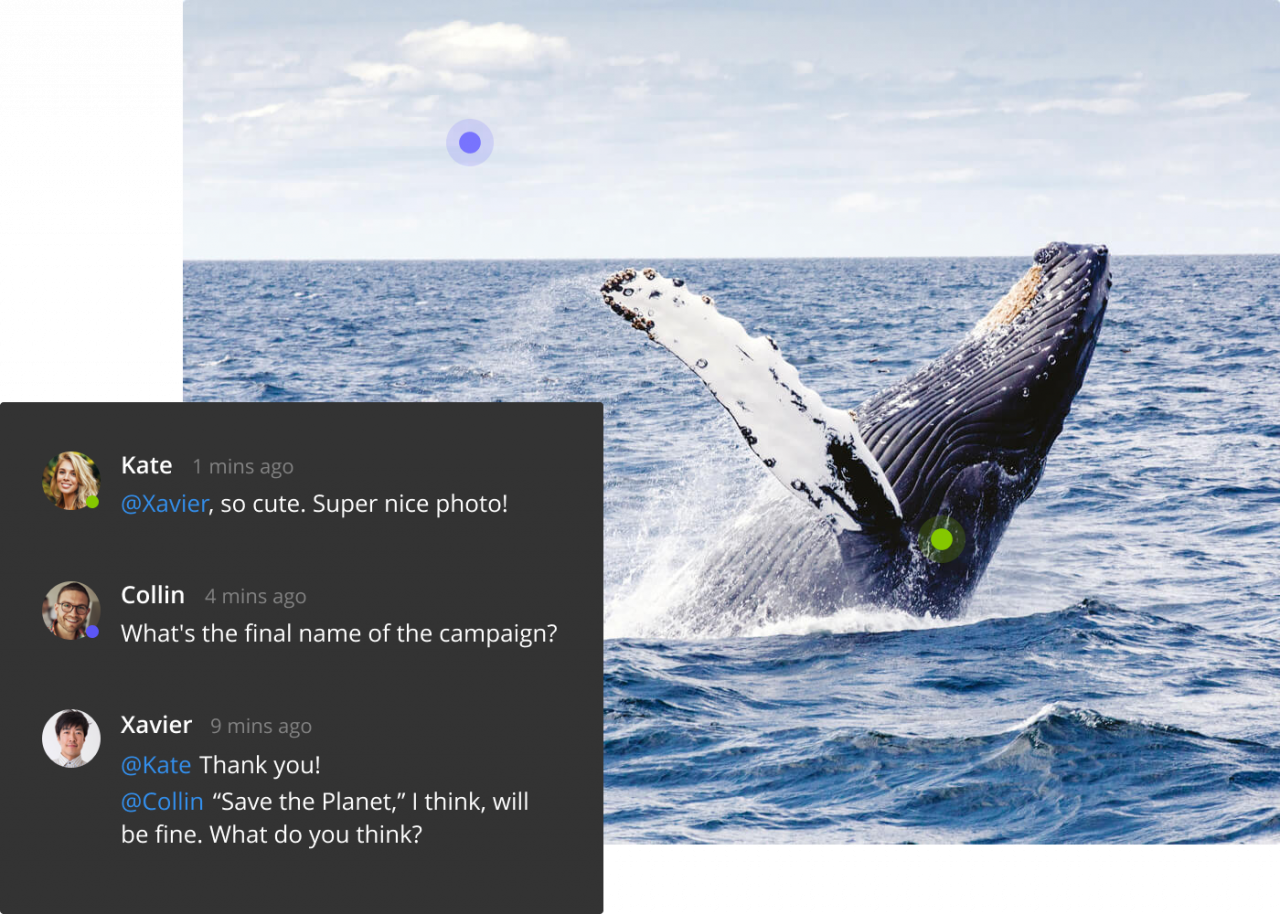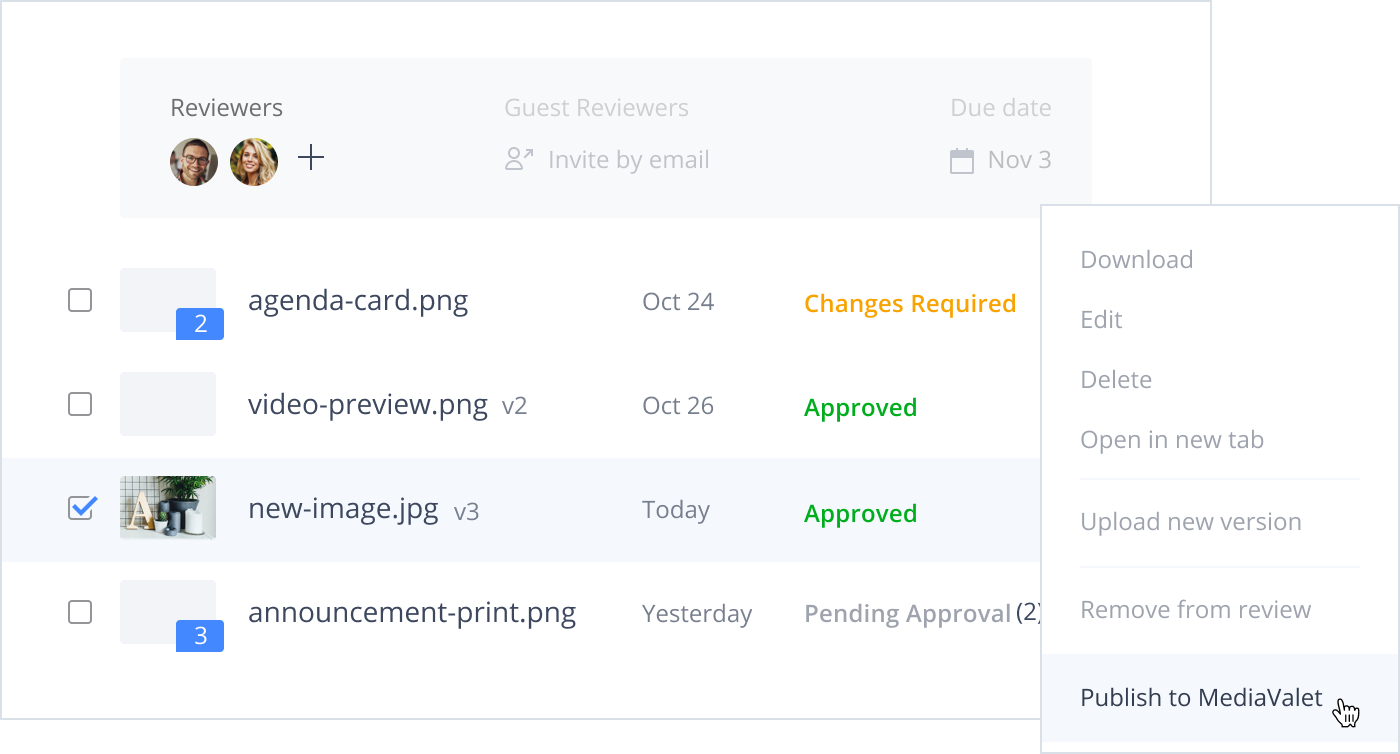 With Wrike for Marketers, one of the greatest headaches marketers manage — creative production — is streamlined and organized. Wrike for Marketers includes Wrike Proof, the powerful functionality to manage the process of gathering creative feedback and make it more actionable. Plus, the integrated approvals process ensures you can eliminate creative bottlenecks and keep programs moving forward. That's especially important when teams and approvers aren't working in the same office. And with Wrike Publish, your marketing teams can ensure only approved assets are out in the wild. By integrating directly with your digital asset management tools, Wrike ensures only the right files are available, which protects your brand and increases efficiencies across channels and campaigns.
Increase your impact with Wrike for Marketers Performance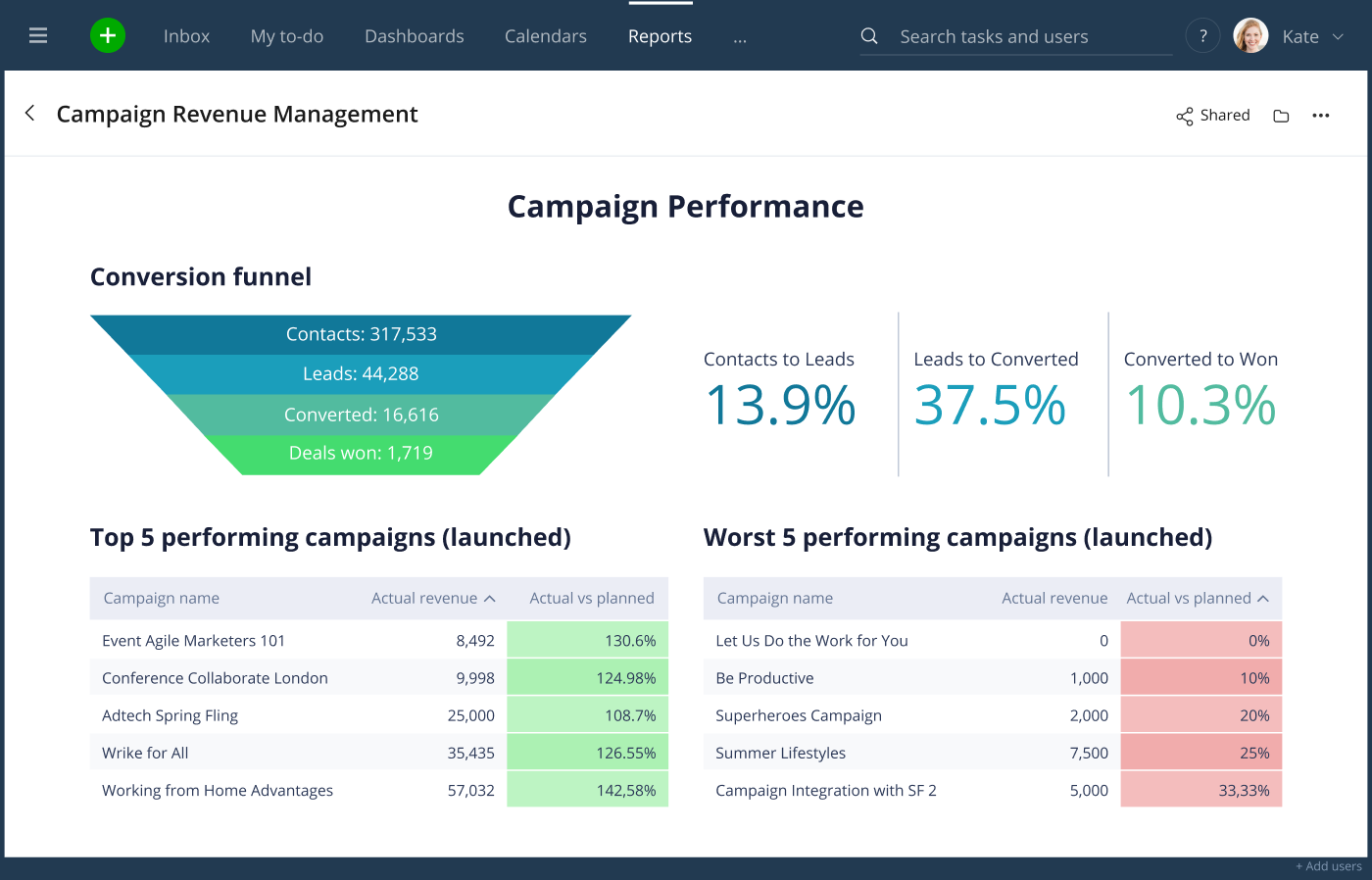 Give your marketing teams the power to collaborate more effectively, empower Agile methodologies, and enable continuous campaign improvement. Wrike provides teams with a centralized platform that makes their work more impactful and their work-life more manageable. From integrations with your existing toolsets and automation for repetitive tasks to the analytics you need to evaluate results and keep everyone focused on the same priorities, Wrike delivers. And those advantages add up. Whether you're tasked with generating more leads or creating steady buzz in the market, Wrike for Marketers Performance will keep you on target and delivering results.
Try Wrike for Marketers Performance and see what a difference it can make for your team.